10 Best New Features in Windows 10
Recently Microsoft announced to the world the up and coming features of Windows 10 and demonstrating some pretty impressive and innovative features for its users. Although Windows 10 is still in technical preview (and therefore features could change before release) we thought it would be useful to summarise the 10 best features of this upcoming operating system here so that it might tempt you to try it for yourself.
We believe your experiences should be mobile – not just your devices. Technology should be out of the way and your apps, services and content should move with you across devices, seamlessly and easily.
---
1) It's Free! For Consumers
For users that already have Windows 8.1 or even Windows 7, Windows 10 will be completely free to upgrade. The tentative time for that is one year though it may extend beyond that. Over two million people are already part of the Windows Insider programme – which provides access to the Windows 10 Technical Preview. These early adopters will help Microsoft develop the best product they can before relese,making it a viable upgrade option for consumers once it is released. Note business users are likely to continue to pay for the operating system.
2) Start Menu Is Back
Many people found the Windows 8 start menu quite a leap from Windows XP and Windows 7. It was designed for both desktops and tablet computers and was confusing to use the first time, possibly less intuitive than prior versions of Windows. Once you got used to the change it was powerful but it does not matter now as Windows 10 is bringing back the start menu.

At first glance it looks similar to the Windows 7 start menu but it is a "hybrid" as it combines the Windows 8 "Live Tiles". You can even opt to go full-screen making the start menu look more bold, enhanced and easier to navigate. Therefore the new start menu caters for all preferences – the "small mode" is for those who prefer the Windows 7 start menu and the expanded view caters for those used to the Windows 8 menu and/or touch devices.
3) Cortana: Your Personal Digital Assistant
Cortana was only available on the Windows phone previously, competing with Siri and Google Now. It will now be available to you on PC's and Tablets as well with the new Windows Phones. However, it is not just restricted to phones anymore and Windows 10 is proud to have it as one of its headline features.

How to use it? You can click on Cortana, which will be located next to the Start button, to activate it. It can also be activated by saying 'Hey Cortana' or by typing in requests in order to interact. To improve this service you can also control and edit the things and preferences Cortana knows about you, to serve your needs better. If you are outside the US like us you will have to wait until Microsoft release Cortana for your environment. Of you can test it using this short guide.
4) Xbox App
Windows 10 has something great to offer to the gamers out there. Xbox users are in luck as it has introduced some innovations to benefit them as well. It will come with the Xbox app and bring along many features with it. It will have the ability to control Xbox one and a DVD capture for any Windows games. Your games, your friends, your achievements, and more follow you across Xbox One and Windows 10 devices.
Multiplayer games can also be played cross-platform between the Xbox One and PC. You can even stream games from the Xbox Box due to Windows 10. It will also support DirectX 12 for better video performance.
5) Universal Apps
If you have more than one Windows device, the universal apps feature can be convenient for you to sync everything across your devices. Apps such as Photos, Videos, People and Messaging, Music, Maps, Mail and Calendar will now be available across all your devices even if the screen size differs. One Drive will also save and sync your data automatically without you facing the hassle of backing up data on every device separately.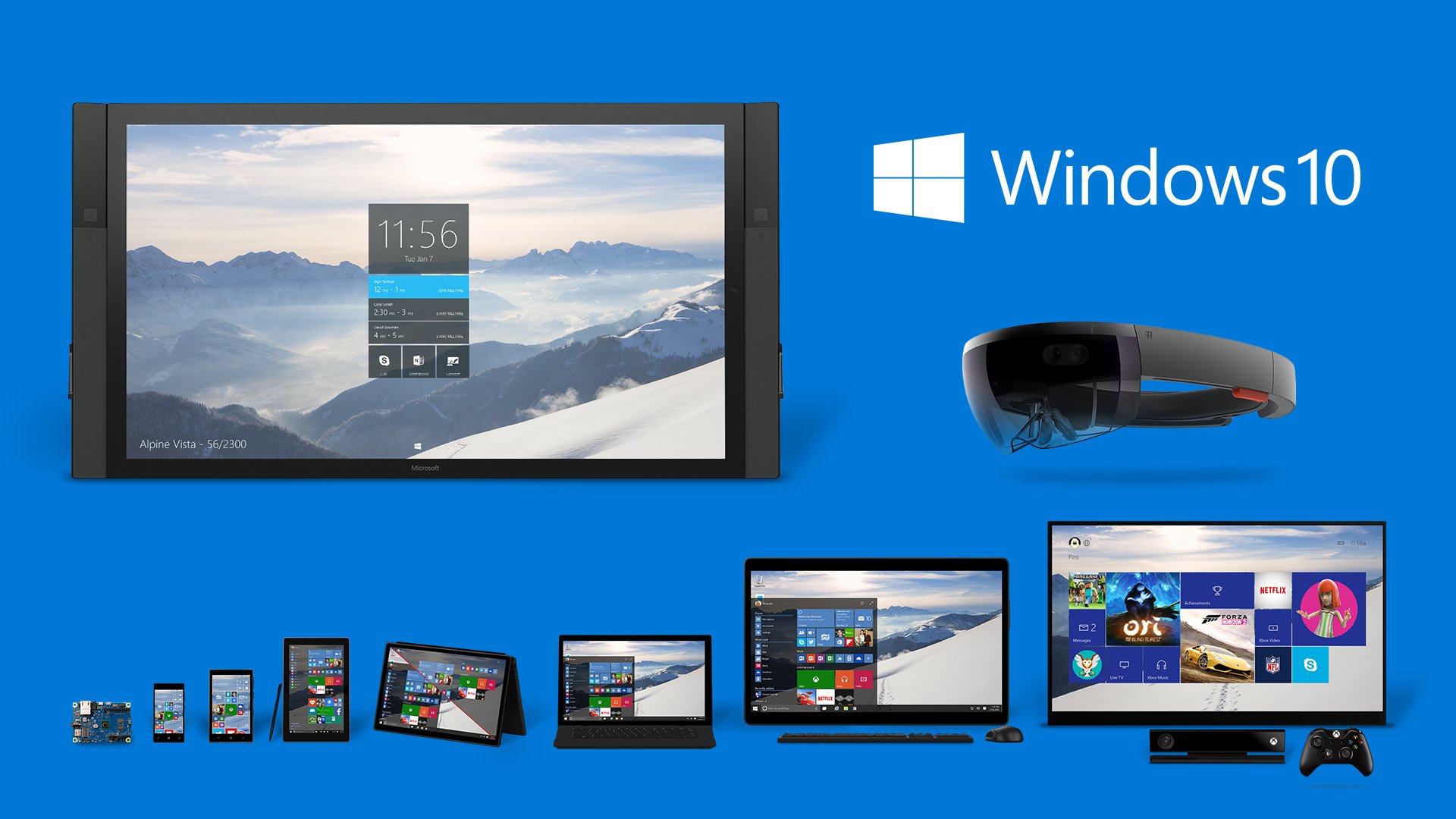 6) Spartan Browser
A new browser is being introduced called 'Project Spartan'. Microsoft claims that it has been built keeping interoperability in mind which communicates, exchanges data, and uses the information between different information technology systems and software applications. The key difference we saw was that you will be able to annotate directly onto a page using a stylus, using natural handwriting: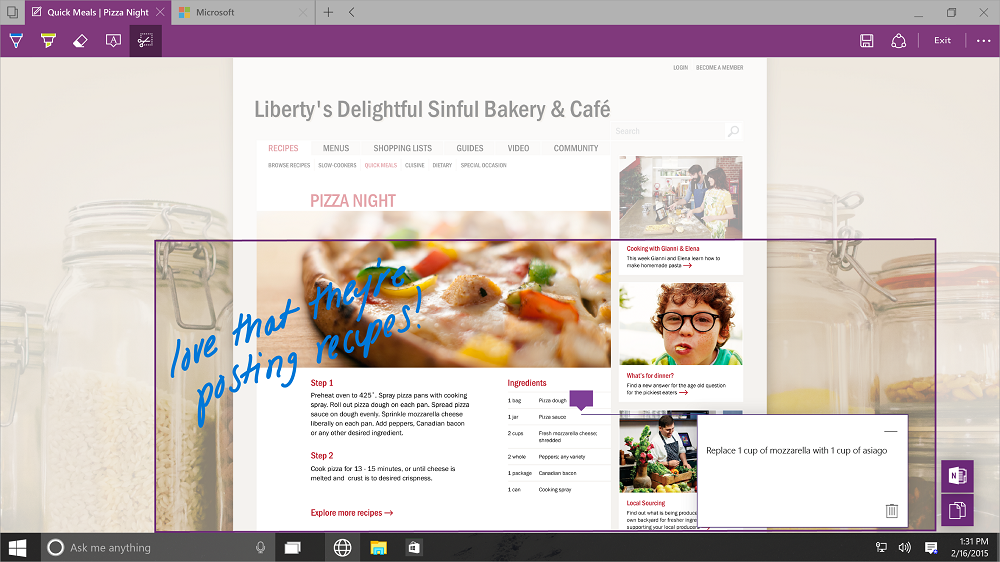 Features include reading mode, ability to annotate and it can also integrate with Cortana. When you are exploring web pages, Cortana can provide you with additional help such as displaying information or products for instance.
We also believe that interacting with technology should be as natural as interacting with people – using voice, pen, gestures and even gaze for the right interaction, in the right way, at the right time.
7) Enhancements
Microsoft is considering what its users are demanding and want in their Windows. OS will have unified settings as you will have Windows 10 running across all your devices. The Action Center is there to provide with notifications and there is no more a need of a separate control panel and PC settings.
8) Windows Phone
Windows 10 will put an end to an isolated Windows Phone experience (isolated from your tablet and or PC). With the ability to run universal apps across all devices, keep track of tasks on all and run Skype natively on your phone it appears that the Windows Phone experience will be much improved from the current version. We believe the Windows 10 Phone release will be available to install and test some time in February 2015.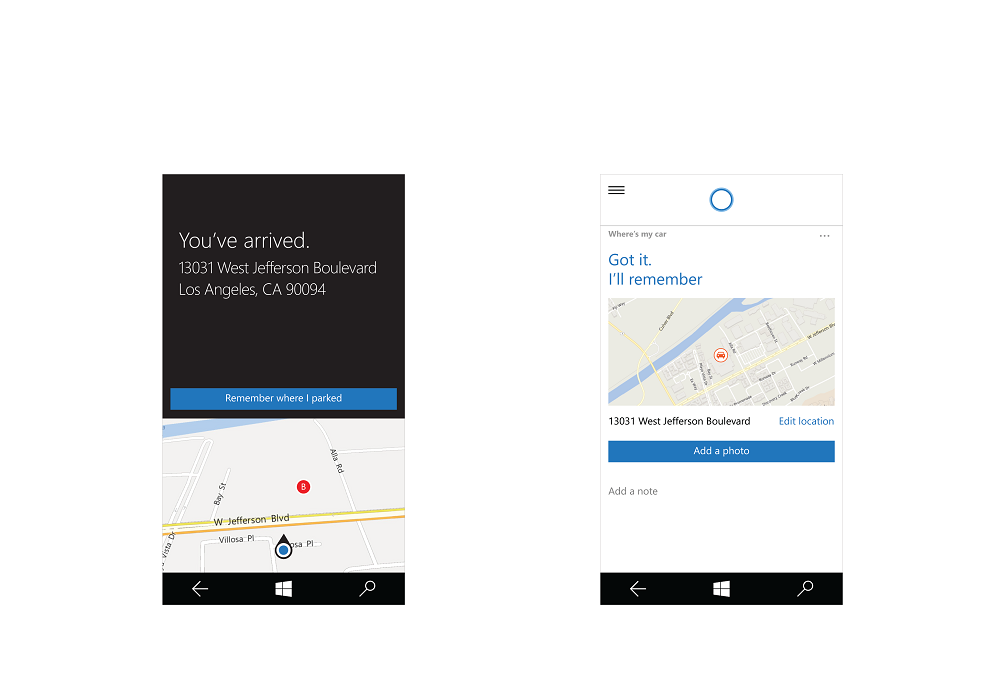 Along with that you can also float the keyboard across the screen and message notifications will be in-line. These features are not just making your phone more user friendly but also enhancing its look.
9) Continuum mode
Th objective here is to make navigation easier for Windows 10 users. Continuum is about enabling a two-in-one device like a Yoga 3 Pro "convertible" device to transform elegantly from a laptop into a tablet form factor. Previously, whilst the manufacturers had managed to make the hardware itself "flip" between laptop and tablet modes, Windows did not respond accordingly. But now Windows will represent the display accordingly, making it easier to use the devices in tablet mode.
10 Surface Hub
The Surface Hub is a team collaboration device designed to advance the way people work together naturally using a large mounted and, we assume, affordable device. Imagine how this device could replace electronic whiteboards within schools and the quality of meetings within business.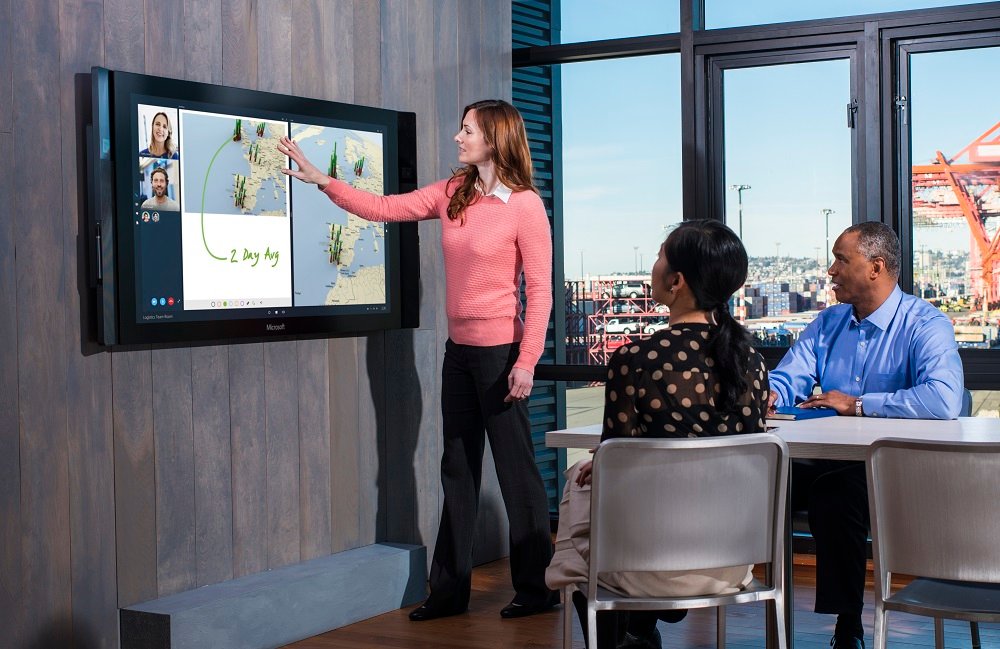 That's the top ten and we have not mentioned the highest profile addition of all:
HoloLens: Your First Holographic Computing Experience
Windows 10 is also the first holographic computing platform. Holographic experiences can now be created in the real world by using a set of APIs by developers. HoloLens will work alongside it which is the world's first untethered holographic computer according to Microsoft. HoloLens has see-through, holographic, high-definition lenses which allow the combination of real-life and computer generated graphics to be presented to the viewer.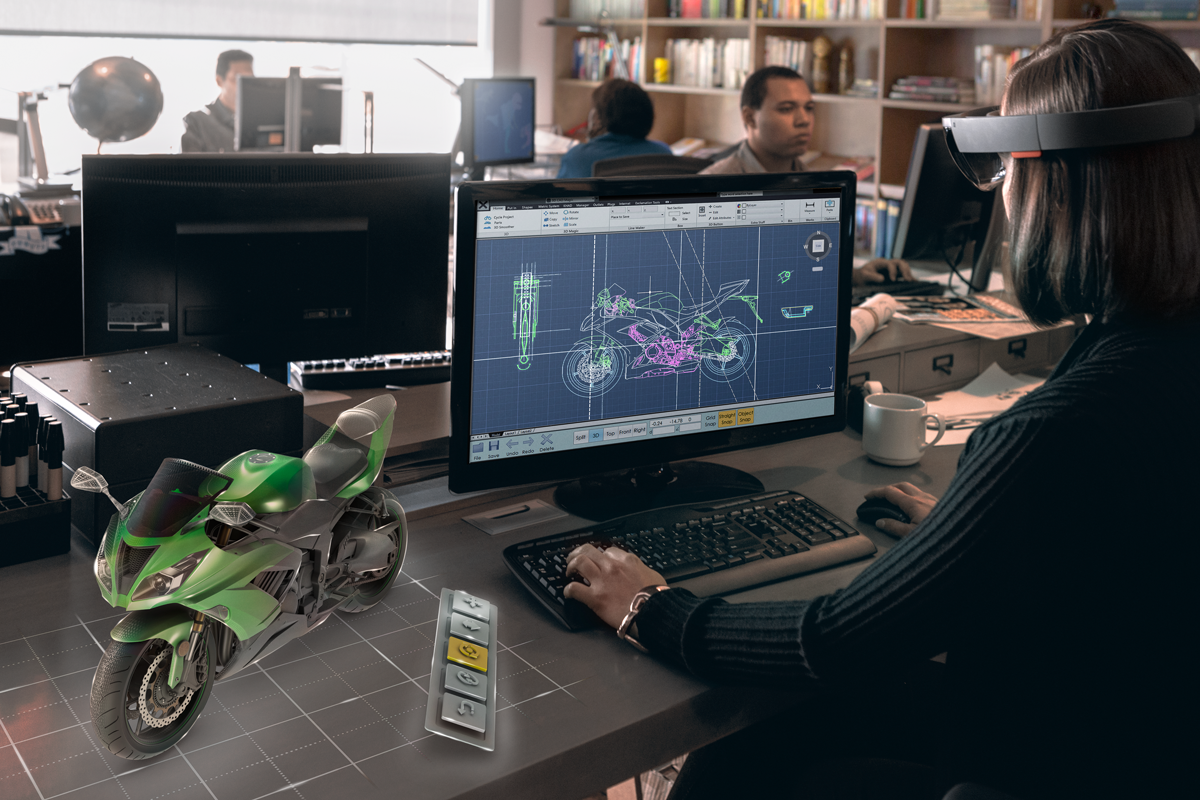 In order to develop this experience Microsoft created a "holographic processing unit". The HPU gives us the ability to understand where you're looking, to understand your gestures, to understand your voice.
HoloLens has the ability to spatially map the entire world around us and to run without any wires, all while processing terabytes of information from all of these sensors, all in real time
It is looking like a great couple of years for Microsoft and the industry as a whole. The new ways of interacting with your computer as mentioned above will provide some interesting creative challenges.
How will we and Windows change now we are
no longer restricted to mouse, keyboard and static screens?
What do you think of this new operating system and how you envisage using it (or not) in the coming year?
{{cta('c7e4633f-d299-4c85-b7c0-1b7c3d79e732')}}
---