---
Windows Server projects are not limited to…Windows Server
For those that have worked with System Center Operations Manager ("SCOM") you are likely to understand the point of this blog post. SCOM is used to manage an Enterprise IT environment but you use it effectively, you need to know a lot more than SCOM.
---
Communciations
It is likely the whole migation/remediation team will need to communicate across the organisation. This is obvious for any major infrastrucutre change, as the PM faces off to the board and the project members drive change forwards. But in addition you are potentially dismantling systems and the involvement between technical and business stakeholders can (and almost certainly) become complex and dependencies arise throughout the project. Hence good and effective communication is the first essential skill for each team member.
Infrastructure Knowledge required
In regards to knowledge, skill-set and general day-to-day interest in a SCOM admin's job you need to know a lot. Obviously you need to know how SCOM operates in order to design and deliver a well functioning SCOM enviornment – what is does, how it does it and how you should implement it well. But the other half of implementing a good SCOM environment is that you must also know other Microsoft products, Linux and business apps. So it means knowing Windows Server, Active Directory, Exchange, SQL, IIS and Windows desktop at a minimum.

There is no point trying to setup SCOM to manage your e-mail or web server environments unless you yourself knows how these products work. Otherwise you are just stabbing in the dark – implementing a monitoring system that does not fit your company needs.
The same goes for a Windows Server 2003 (or 2008) elimination project. In order to determine the best location for an existing application or service you require wide Microsoft infrastructure experience. You need to:
(a) consider the business requirement
(b) take the old environment
(c) look at what you are currently running
(d) look at future technologies
And mix the four to work out what is best for your business.
So the point of this blog entry is that is a lot of technology! Not only will it refresh your knowledge of older operating systems, the server elimination project is likely to introduce you to newer technologies.
The mapping can be helped with tools such as the Microsoft Migration Planning Assistant ("MMPA") which lets you define what services you are currently running on Windows Server 2003 and then work out a new location. The issue with the tool is that it promotes net-new, recommending that you should consider moving your applications to Windows Server 2012 R2 or Office 365 for starters. But large businesses have already invested in other technologies and you will need to consider.
Why build a new Windows Server 2012 IIS farm when you can utilise an existing Windows 2008 IIS farm, reducing the change within your infrastructure, red tape and server sprawl.
Non-Microsoft technologies
In Enterprise environments it is likely that the Windows Server 2003 machines to be replaced are interfacing to non-Microsoft services. At the very least they may be running monitoring products for network equipment so a level of network knowledge may be required. The servers may be used to talk to UNIX based directories, file systems or mail-systems.
The Business
Line of Business applications and services are the most likely components that are running on the Windows Servers. The applications will need a full discovery to determine if you Retain/Archive/Decommission the application and once this has been established the application will become its own mini-workstream within your project, with its own stakeholder, milestones, resource requirements and RAID log.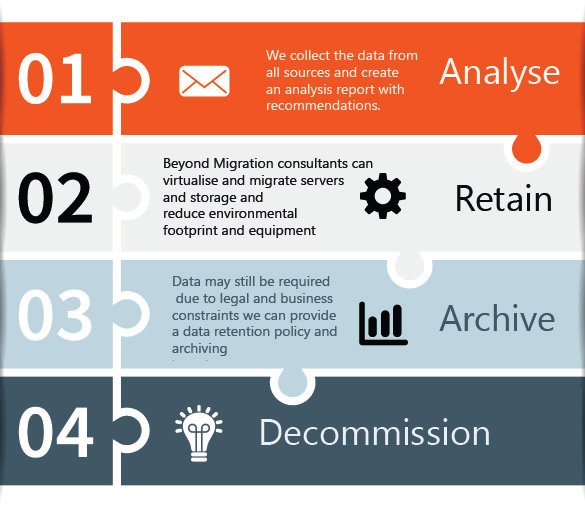 CONCLUSION:
By embarking on a Windows Server remediation project there is the potential to assess every component of your Enterprise infrastructure. This makes the work challenging and interesting at the same time as there is obvious business impact on the actions your team decide upon. From a technology point of view you need to understand a lot of other Windows and Microsoft technologies in order to effectively implement change.
---