As mentioned in

part one of this b

log series,

Lens allows you to view your discovery data from many perspectives.
Benefits of an organized overview of geographic locations, servers, tracked applications, operating systems and print centers include:
Increased visibility on core information during tasks such as Windows Migration or Windows Server Migration

Effective time management – as project management tools are built upon the discovery information

Accurate risk assessment on potential End of Life ("EOL") Operating Systems or Applications.
Depending on the Data Sources enabled, icons can readily be clicked on from the main Data Warehouse. The following are even more of the key insights that Lens can provide:
---
Geo Location Discovery Statistics
for a windows server migration
A live inventory based on the data is displayed on a map to demonstrate the geographic locations of the information. By clicking on the location you are able to see the number of users in that region, the number of PCs (shared/kiosk), the number of applications and online applications as well as the number of shared mailboxes.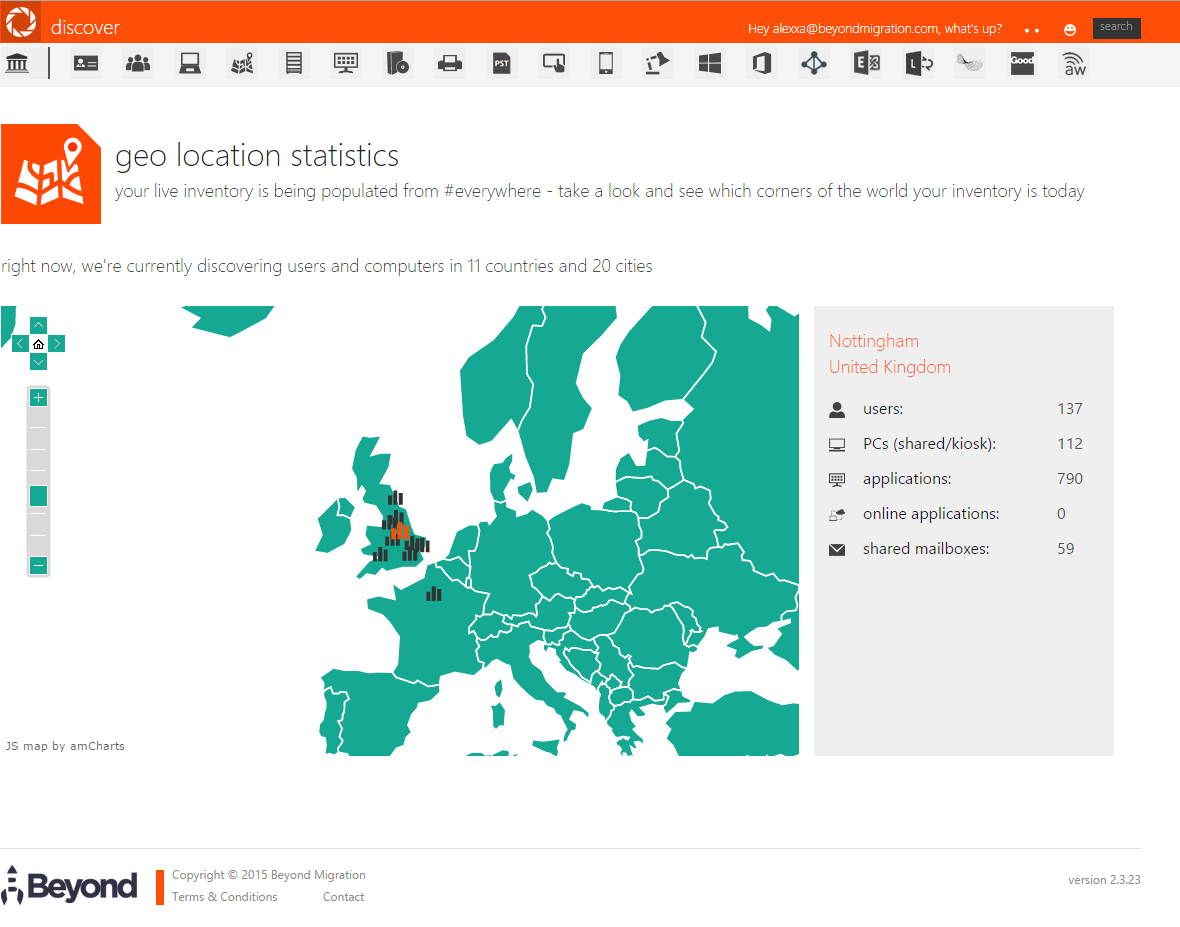 This is particularly useful if you want to see a quick overview of the IT assets across your Enterprise or are looking to carry out a windows migration project according to geographic location and require numbers of users, PCs etc in a particular region. The main advantage is being able to see this information on demand and without having to speak to technical staff to run a query or a report.
Servers in your Data Center
All of the servers in your IT environment are easily visible. By choosing a specific server you are then able to see the different components that lie within that server. Many components are visible including
Login Accounts/Applications

System Drivers/Services

Processes, Ports, Shares and Printers.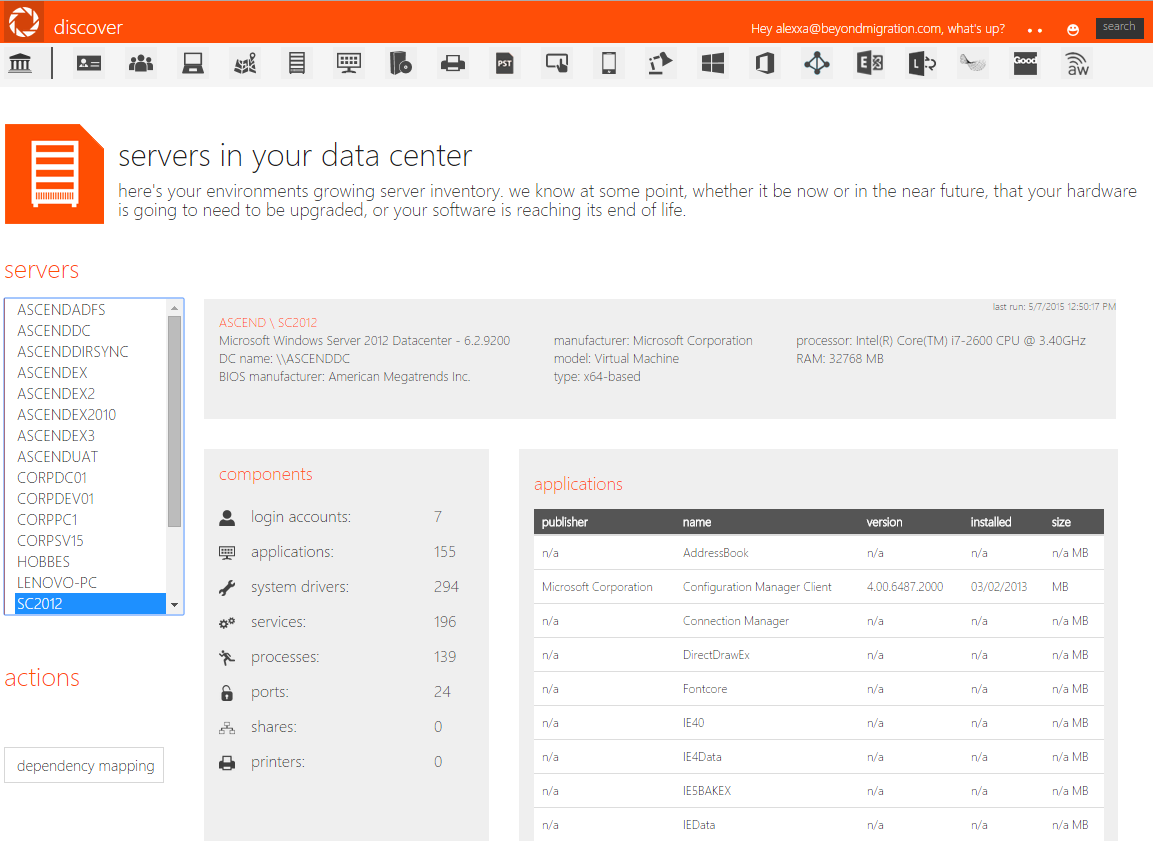 By clicking on one of the components, you are able to see additional information. There is also an action link, Dependency Mapping, which takes you to the planning section of Lens. The page focuses on Server Dependencies which allows you to see information about the servers in order to make better business decisions, especially during Windows Server Migration projects. This is useful to work out which servers are dependent to each other on the network and to also identify "orphaned" servers that it may be possible to decommission.
Tracked Applications allow you to look into what you have installed across your estate and is critical to a Windows build.
By tracking the application it is then separated from software updates and patches and can be managed when looking to implement a Windows Migration or Windows Server Migration project.
You can see breakdown of tracked vs. non-tracked apps allowing you to quickly compare applications. A chart that displays all of the applications. The operating system, the name of the application and the number of total installs are listed to easily view. This is crucial data that can provide an overview of the wide variety of application versions running you never knew existed.
Operating System Breakdown
By breaking down the operating system you can see the different operating servers that the computers and servers within your organization are using in order to prepare you for a windows migration project.
This is easily demonstrated with a percentage breakdown for different operating systems (ex: Windows XP, Windows Server 2003 etc.). Software is also listed at the bottom of the page with additional information including the name of the operating system, the version, system type, and count.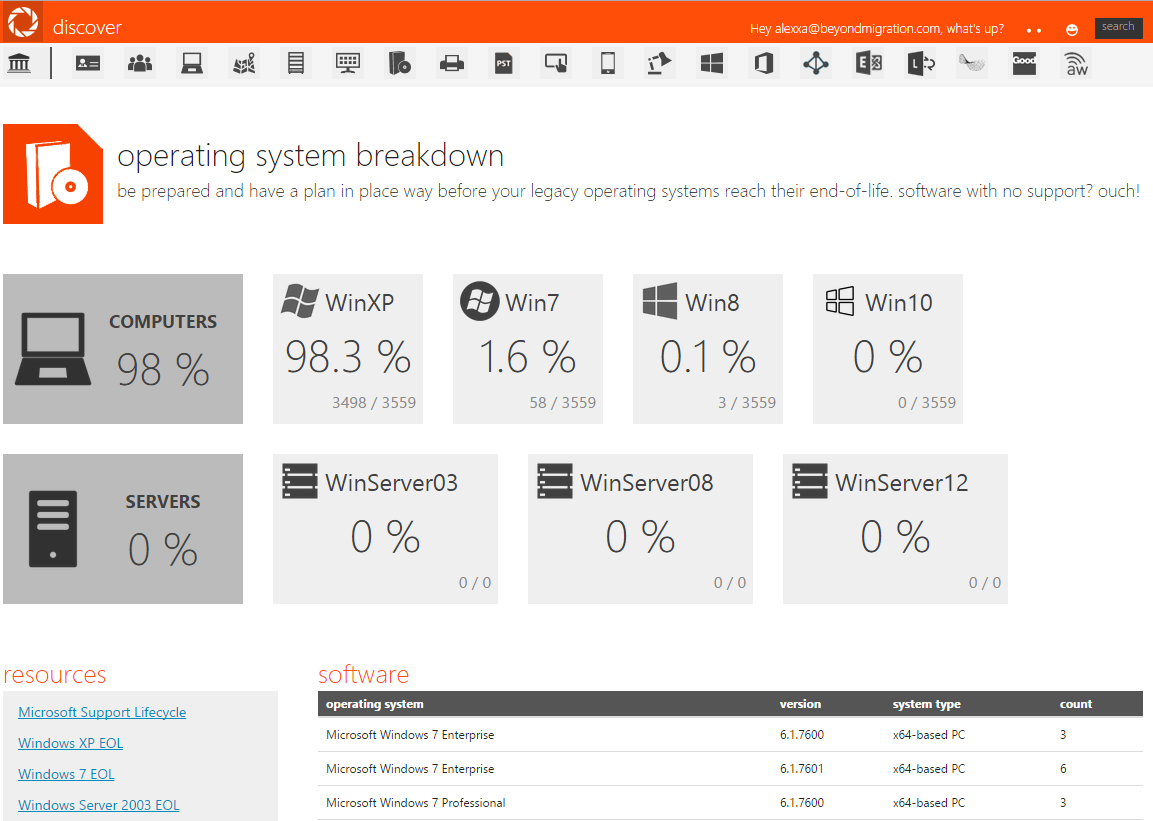 This is extremely important as organizations are able to see if their legacy operating systems are near to their end of life.
Keeping track of printers and drivers allows you to see their uses across your internal environment. Available for full visibility are:
All Printers

All Drivers

Local Printers and

Network Printers
---
Seeing all of the tracked applications, servers and printers according to region is useful for procurement managers to see if standardizing with a single printer vendor will reduce costs. The printer information is also critical when running projects such as a Windows Server Migration or Windows Desktop migration.
Don't risk unsupported operating systems and increase your enterprise visibility today!
{{cta('c7e4633f-d299-4c85-b7c0-1b7c3d79e732')}}
---