Windows Server Migration Planning Tools…
As it is almost time to say goodbye to Windows Server 2003 (see more End of Life information here) organisations are looking for the most cost effective and efficient way to update their systems. Planning is a large part of the migration process which is why here at Beyond Migration we have included planning tools as a part of Lens.
Project Risks, ARID, Remediate, and Manage all make up tools within the Server Planning piece of Lens. During a Windows Migration, it is important to have the right tools in place in order to carry out your work as efficiently as possible.
Project Risks during a migration can include:
Pilot Projects

Application Compatibility

Deployment and Migration Policy Review
Determining open risks before and during your project can provide insight for programme managers and project teams on how to approach certain areas of the project.
By providing transparency (as mentioned here) your project team can increase productivity and confidence in their work.

Track key variables during you Windows Server Migration:
ARID allows you to track actions, risks, issues and decisions during your Windows server migration. By providing an open platform to easily monitor and track these variables, visibility is increased for relevant viewers. The ARID feature not only allows your organisation to gain transparency on the project but reduces the workload for project managers throughout the project lifecycle by delegating and raising awareness of tasks early on.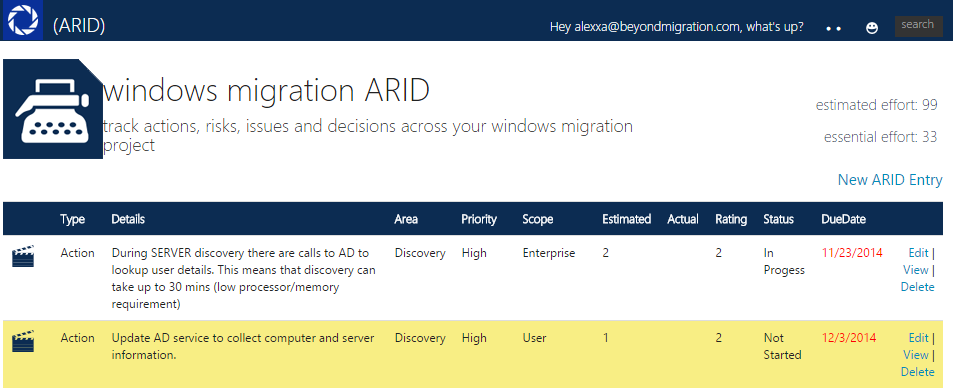 For many services and applications, remediation is necessary before Windows Server 2003 can be replaced. The Remediation section utilises four tools to manage the remediation process of your windows server migration which allow you to keep track of the issues as they appear. Lens also allows you to record and manage issues specific Windows Build Issues or Application Issues. Application Manager manages applications and packing schedules across your organisation, whilst the Version Manager records and tracks windows build versions specifically for you windows server migration project.
See more about remediation here.

Project management tools:
Project management tools provide an efficient platform for programme managers or project teams during the appropriate project phases. A Gantt Chart (further
explored here) allows the opportunity to chart and track requirements for further action. This allows for proper time allocation before, during and after the Windows migration.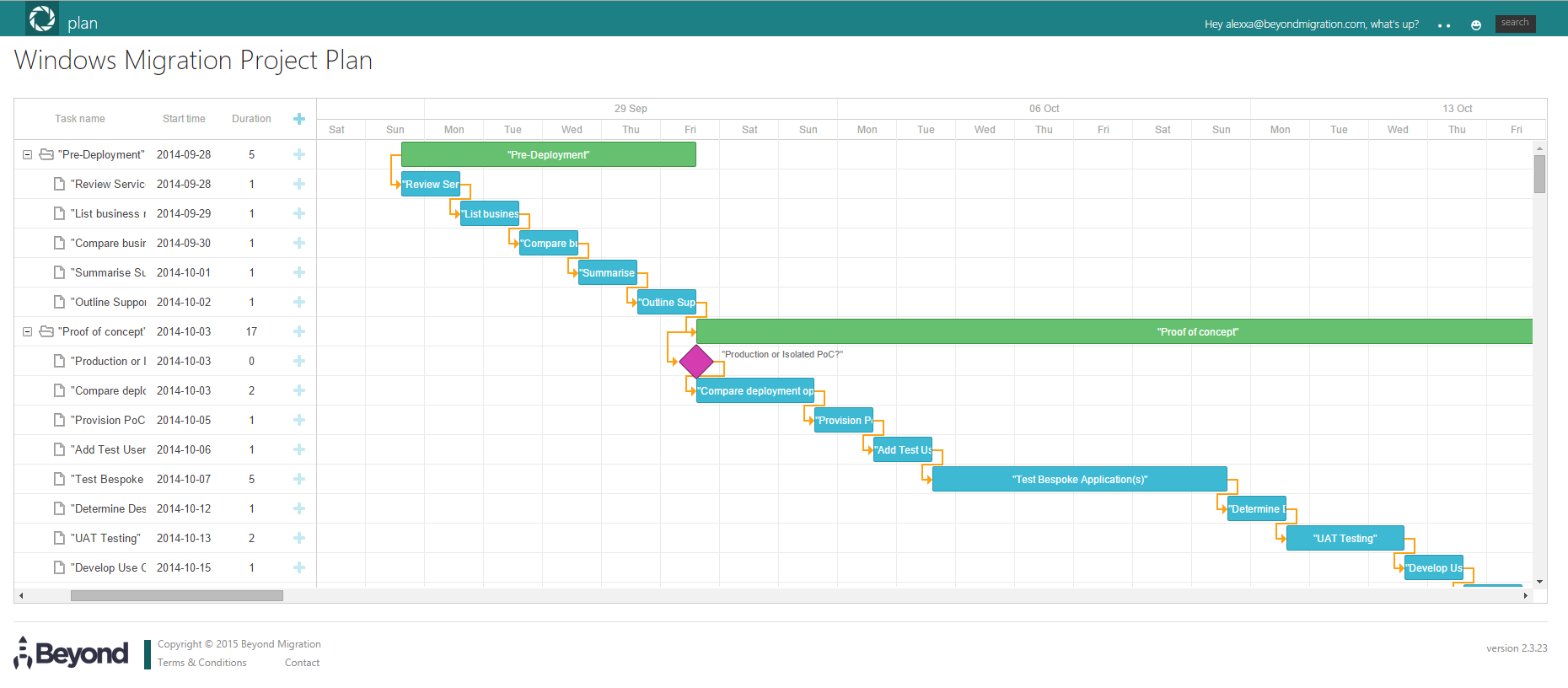 Using a Gantt chart can assist in a windows migration project by providing clarity. Using a Gantt chart also increase transparency for all employees. As an online-service, Lens can ensure that all members of the project have the same updated version of the Gantt chart, minimising confusion, risk and costly errors.
Increase productivty, reduce risk by migrating from Windows Server 2003.
By utilising these tools, your ability to perform asset management or migrate from Windows Server 2003 for example, your organisation increases productivity while reducing common risks.
{{cta('c7e4633f-d299-4c85-b7c0-1b7c3d79e732')}}