Implementing Lens across a number of computer systems, people, applications and servers means connecting to machine sources of information. In most Enterprise companies, gaining access, change control procedures and testing discovery takes time and management.
Therefore we built an ARID screen to help you manage your Lens implementation, or Windows migration project.
Easily Monitor and Track key Actions, Risks, Issues and Decisions.
The ARID screen allows you to track the Actions, Risks, Issues and Decisions during the implementation of Lens specific to your installation. It is easy to see a list of of actions needing to be carried out and you can track priority, scope, estimated and actual time, rating, status and due date of the task all aid in achieving an organised approach.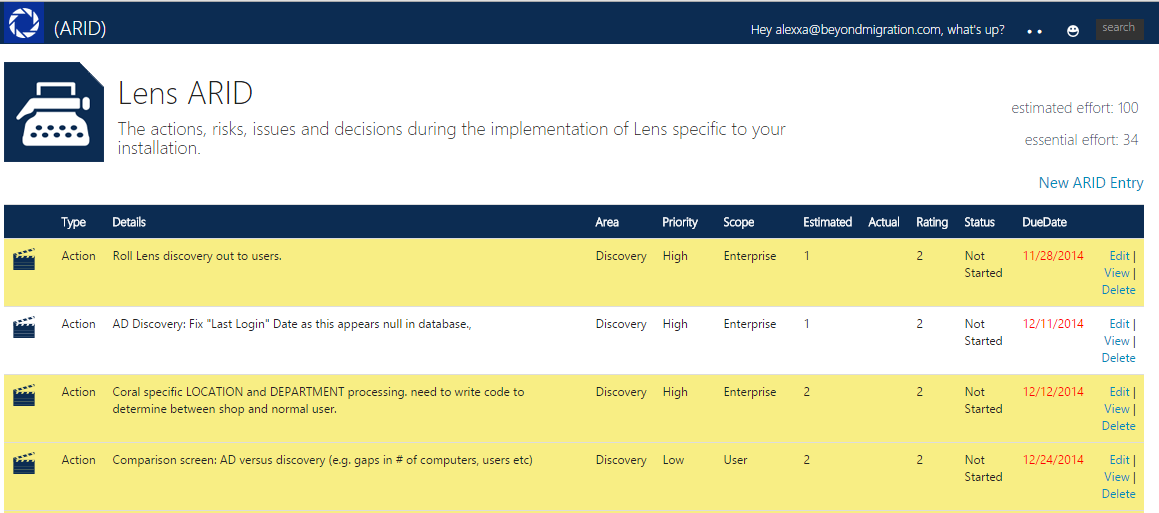 When do I start?
We recommend starting and maintaining your Lens ARID log as soon as you implement Lens. That way you take advantage of the built-in management features. In addition the ARID allows you to keep track of progress easily.
Why track your Risks?
ARID entries are displayed according to due date, this chart allows viewers to see key actions that need to be carried out in order to allow the project to smoothly continue on to the next phase.
Determining potential risk and issues ahead of time could save costs, time and stress. The screen presents decisions that need to be made will determine the decision maker for that specific tasks, increasing the transparency of the project.
Gain transparency and reduce workload…
One major benefit of this screen is that all project members can both read and update ARID entries, reducing the workload for the project manager and ensuring entries are updated throughout a project lifecycle.
Placing the ARID log within the Lens portal provides transparency and ensures that vital actions are easily found and not lost in someone's e-mail inbox during key phases of projects (Including Windows Migration projects, Office 365 Migration projects, or Windows Server Migration project to name a few…)
{{cta('57b8f2fc-6764-4e5e-b73f-823aa720b2aa')}}