We recently met with a potential customer to discuss Microsoft Office 365. As a customer that is already interested in cloud technologies and how it can benefit their business the meeting was not about "product". Instead it was focused around functionality and comparing what they do today versus what they could do in the future.
This is generally a more interesting approach for both parties as we were exploring business adoption and benefit rather than talking about the features of software.
We began by taking the customer through the usual journey of demonstrating familiar software and how the look and operate when running in the cloud. Predominately this means discussing the following products:

Most of the conversation came naturally – e.g the customer would explain "I need to do X", and in reply we'd say "Oh, you need to use product X". As we started to develop the conceptual solution and the products looked something like this: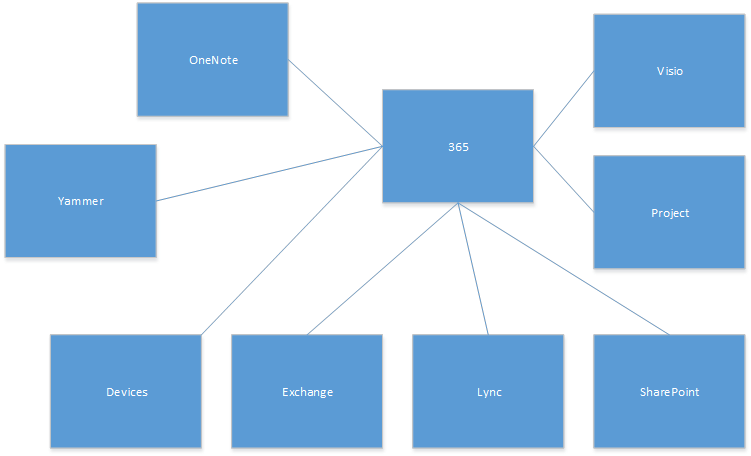 Whilst we have been implementing and working with Office 365 since the beta it was beneficial to re-evaluate what products are available and describe the overlaps between products and which was more suitable. The resulting solution will be different for every business. But wanted to share how something that looks quite simple can morph into something more complex.
The best thing about the Microsoft cloud offering is the modularity. For example you an purchase a full set of features for office based workers and a limited (and cheaper) option for associates or people who only occasionally log-in. This can help financially as businesses do not have to purchase the same software for all people in the company.
But without some guidance it can also be confusing as the diagram above shows. For instance where is the overlap between Yammer, Lync and SharePoint? Also there is often an oversight regarding devices – PCs and mobiles, whether they are suitable or ready for an upgrade to the "back-end".
Most customers start with one of the products as a reason to evaluate cloud. Most often than not it is either e-mail (Exchange) or collaboration (SharePoint) and the journey begins from there. But assessing how the business communicates and looking at using the software to improve processes and generate new ideas more efficiently may leverage more obvious benefit over time.
In this particular situation we learnt that the search features of their old on premise SharePoint system was not working properly and the platform itself had not been working as they wanted so a lot of people reverted back to e-mail. By demonstrating the newer (and fuller) features of SharePoint, the integration with their Outlook inbox and then moving on to Yammer for "instant" communication the customer was easily persuaded to engage with us.
So we managed, collaboratively, to determine the best solution for them. But the conversation bought up another discussion we are commonly having – newer technologies and collaboration requires ambassadors and leaders to ensure teams continue to use them in the longer term.
If you would like to know more, why not {{cta('4e62f087-e0e1-4394-bc63-fdf15cfd0ee3')}}