Help for Office 365 and Windows Migration
When we meet Enterprise clients one of the first discussions we have is regarding whether they have full visibility of their computer systems. Invariably, the answer we get is "about 80%" with the additional 20% being difficult to inventory because of recent change and growth or technical reasons such as remote workers who rarely make an appearance at the office.
So we set to automate the inventory- in order to help companies plan change more effectively.

Discovery is at the core of Lens. Once Lens has discovered your IT system, you have the basis to assess your system for risks, costs and migration to a new platform. It is possible to collect this information. from other sources,such as scripts and exiting systems management products such as SCCM and Solar Winds.
From Beyond Migration's perspective, we want to discover the raw technical information from your IT environment to help you assess and make effective changes across your business. For instance, once you have full visibility you will be able to:
Assess and rationalize servers across your data center

Find IT risks across your business

Migrate to Office 365
And what's more the inventory is always kept up to date.
Our solution can help assess your environment, identify risks and costs and plan a Windows migration or a migration to Office 365.
The following section introduces the main discovery screen.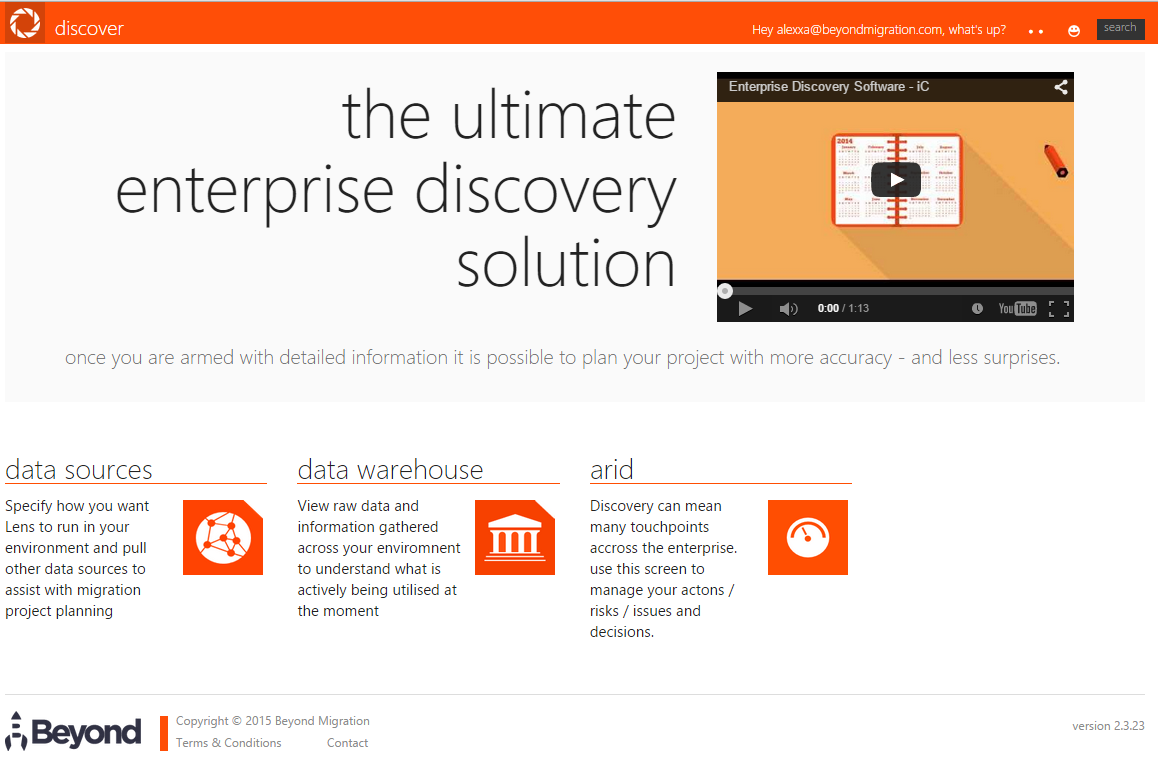 ARID
Being project-management focused, we start with the ARID log. That's the Actions, Risks, Issues and Decisions log for the discovery process. Enterprise computing systems are diverse and large, meaning there will be many initial actions to setup discovery effectively across your business. By keeping an ARID log we can see the actions that are necessary to implement a successful discovery. By moving the ARID log from the Project Manager to the Lens Portal we have made the ARID log open for all authenticated people to see – so that everyone can contribute and be involved setting-up the discovery process.
We have created Lens as a modular system, allowing you to configure and select various sources of information.
Entering this screen allows you to enter the summary dashboards, which provide a high-level view of your infrastructure. The information is presented so that you can make quick assements of your system, for instance how many servers are running on old operating systems such as Windows Server 2003 or Windows XP.
By clicking on "Discover" you are given the chance to review your worldwide enterprise discovery data in real-time and from anywhere. The software keeps you aware of which page you are on by displaying the "Discover" option in the top left corner and in the top right corner it confirms my account by asking me, what's up? Also in the top right corner is a drop down bar with options to relocate to the Data Warehouse, review sources or log off. A smiley face in the top right corner relocates you to leave any feedback you may have and lastly a search bar makes it easier to locate things quickly and efficiently.
Information overload? Not here!
The simplified explanations are key as the potential to become overwhelmed with data is greatly minimised. This is especially important for senior members of staff who are looking for an overview, who might not particularly be aware of technical phrases or practices.
Remote access, anywhere, anytime…
From a discovery point of view we collect information from Windows Desktops, Windows Servers and key services such as Microsoft Exchange and System Center Configuration Manager.
As a Cloud based platform, the remote ability to access data sources, dashboard views and ARID are endless.Always having the information readily and accurately available is key for successful migrations and determining potential risks and costs.
{{cta('57b8f2fc-6764-4e5e-b73f-823aa720b2aa')}}