Thinking about an Office 365 Migration?
Lens provides Project Managers with Office 365 Migration Tools, as mentioned in this blog post. A large portion of Office 365 Management lies in the Remediation tool. These Office365 Migration Tools allow you to prepare for your migration by reviewing related technology and devices that may need attention before your organisation migrates.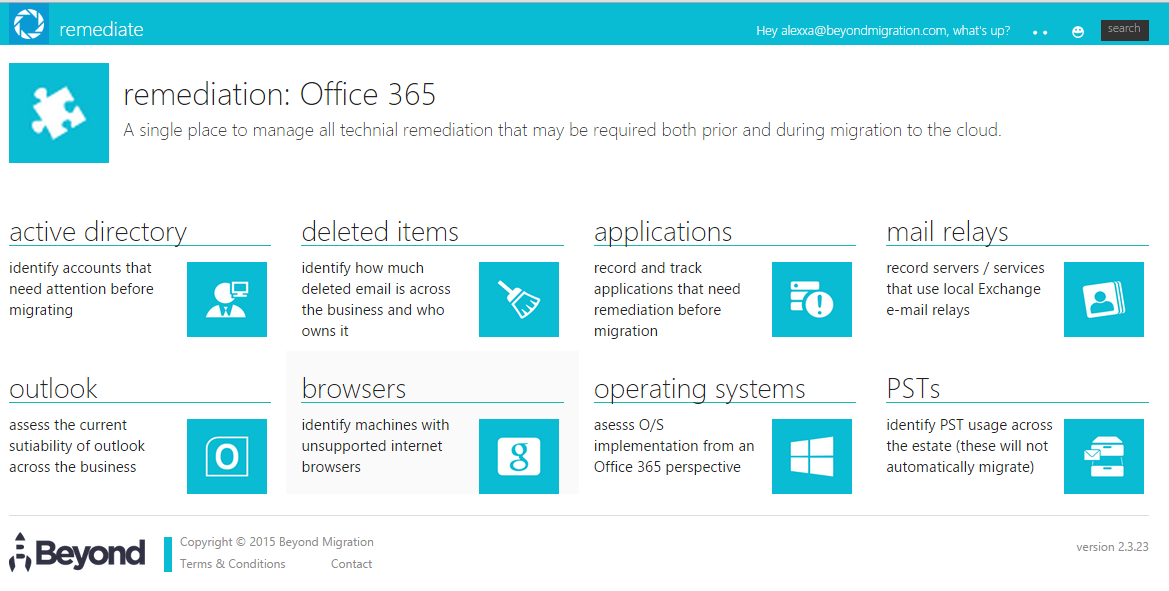 ---
Office 365 Migration Tools:
Active Directory identifies accounts that need special attention before migration. For example, accounts that have invalid characters in their name making it impossible for them to migrate to Office365. A detailed list of AD accounts saves time and costs with the ability to allocate resources more efficiently.

An inventory of deleted items across your Enterprise helps eliminate unnecessary time and aids in a smoother and quicker migration.
This tool allows you to review applications that will require testing before the associated email accounts are able to move to Office365. The planning and execution portion of this task is dramatically reduced by having visibility of all of the Application Details.

In this context, email relays are related to named and authorised access to port 25 via on premise Exchange servers. The servers should be checked for any relays that have been configured, why they need to be used going forward and the resulting solution in Office 365.
Office 365 works with any mainstream supported version of Microsoft Office, as most new Office 365 experiences are designed and tested against these products. The Outlook versions and the number of those installed copies are listed. The Outlook specifics are also listed displaying the PC, Outlook Version, Application Name and the User associated with that account.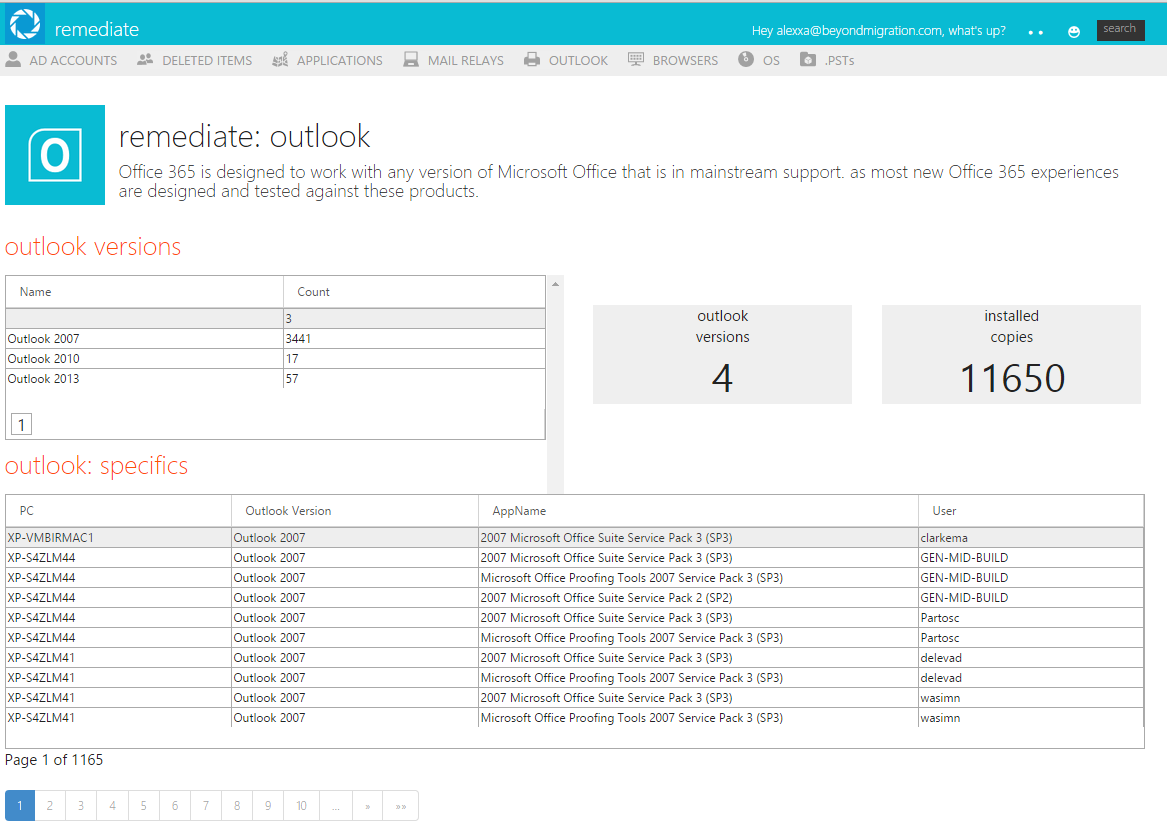 Similar to the Outlook tool, Browser looks at current and supported versions of Internet Explorer, Firefox, Chrome or Safari. The Browser editions and the number of installed browsers is listed along with the version, PC name and Application Name.
The operating system usage suggests that the use of Office 2013 is recommended for best end-user experience (requiring either Windows 7 or Windows 8). The overview of all of the different operating systems are listed as well as the number of installed operating systems. There is also a detailed chart of the Outlook versions, system types, application names users, etc. for an efficient high level overview.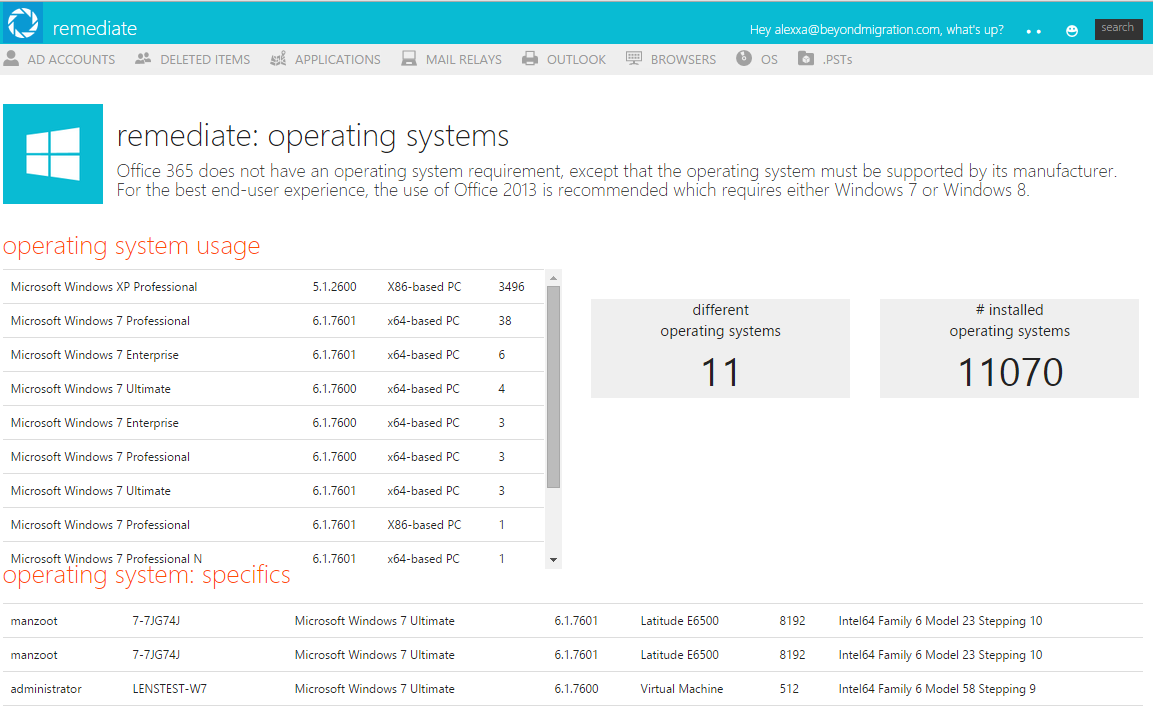 Because emails that are currently in PST files on users desktops/shares will not be automatically relocated during a migration, this tool allow the capability to fix this before the migration takes place. The chart listed displays the PST file specifics including User Name, PC, the File Name and the PST Path. An overview of the number of users with PST files as well as the number of PST files is displayed.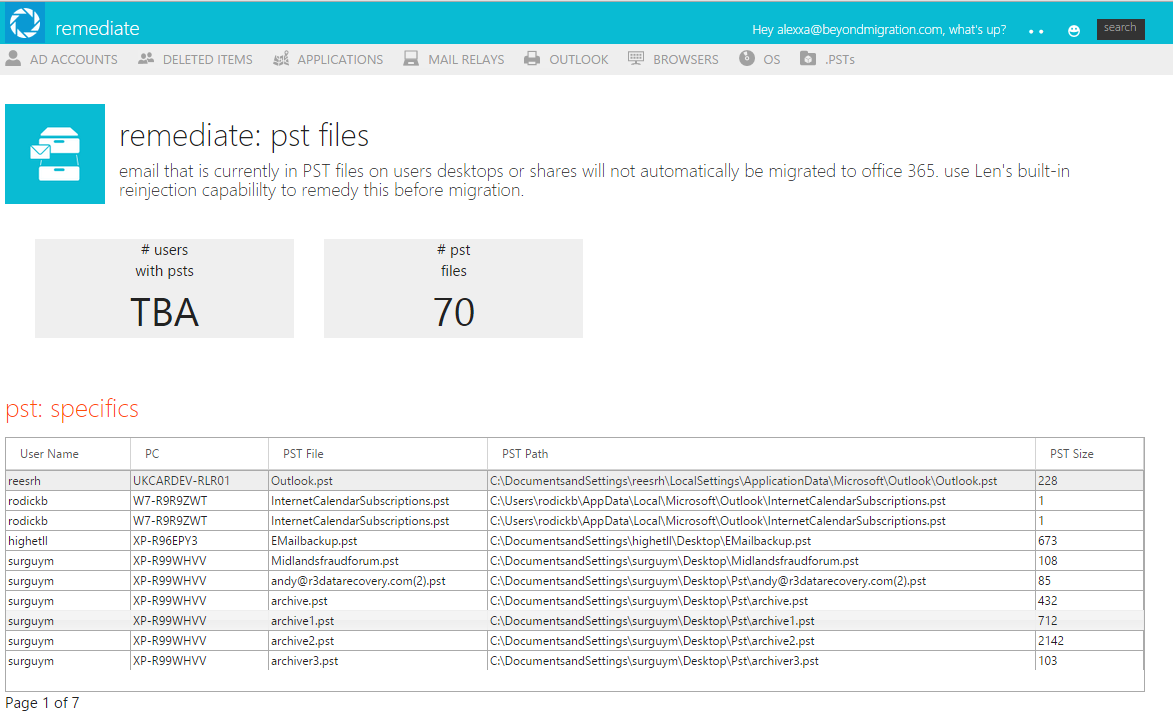 Save time and money with these Office365 Migration Tools.
These Office 365 Migration Tools save time and minimise risk during a migration. The preparation before a migration is key, utilising these remediation tools will assist the entire project team and allow the project manager to focus his attention on what really matters-the Migration!
{{cta('c7e4633f-d299-4c85-b7c0-1b7c3d79e732')}}
---