As someone who had tried various manufacturers tablet PCs in the past I had always thought the format of the device had a lot of potential. Despite the appeal of the form factor I still found myself returning to the laptop (and desktop) as the performance and the form factor never really developed as I had hoped.
I had on and off tried the iPad but never really could get it to deliver the experience I wanted. There was really just too many hoops to jump through to get what I needed working on the device. So when I first hear about the Microsoft Surface it sounded like just what I was looking for. Over a year ago now not wanting to wait for the later release of the Surface Pro I purchased a Surface RT and loved it from the start.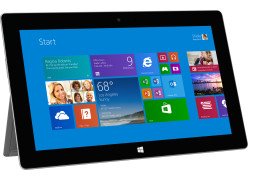 It was a great device which I used both as a business device and as a home media consumption tablet. As a subscriber to Office 365 I can use by RT device at my work place. I found at work with OneNote I could pretty much do all my note taking in meetings and just dabbling in and out of Office docs I could get by pretty well. Having said that there was always something missing and this proved to be the Mail client.
This has dramatically change with the Windows 8.1 upgrade for RT which launched this week. After the disappointing initial delay when Microsoft had pulled the RT update initially I loaded the update over the weekend and have found myself using the RT every day in place of my laptop. Getting Outlook on the desktop really makes a big difference.
Predominantly my day to day work involves two applications that are not present and can't be loaded on eth RT desktop Visio and Microsoft Project and initially I thought this would be an issue. However I was pointed in the direction of the new application that became available in Wave 15 of Office 365, Visio and Project online. Spending some time with the two products I am pretty confident I can do pretty much all I need within these two online versions and be productive.
The other area I felt lacking in other tablets were in their support for printers, I travel a fair bit and being able to print to various machines is something I value and the support in the Microsoft device is just superior.
I had considered looking at the Surface Pro but in reality the RT had everything I was looking for. So after a year's use we come to the release of the Surface 3 (Microsoft dropping the RT suffix). My day to day laptop is an i7 so the one area the original Surface fell short for me was in comparable performance. Not having tried one yet the Surface 3 with its lighter weight, higher resolution screen, two position kick stand and great performance uplift sound incredibly appealing.
So what next, I suddenly have a number of choices do I buy a Surface3, after all the specifications sound really appealing? With the launch of the Nokia Lumia 2520 another RT device with a great form factor is another option or wait for the rumoured mini version of the Surface 3? To be honest I am undecided buts suddenly there are suddenly many more appealing options.
For now I am happy to wait, the original Surface RT is really working for me so my family members who somehow keep 'borrowing' it will just have to wait a little longer before I do my inevitable upgrade.