I was given my Apple Watch as a very generous present back in 2015 when the watch was first released. I was particularly happy about it because at the time I had a Windows Phone and it wasn't really very good, but I still couldn't justify spending money on a new iPhone for that reason alone. However, the watch completely justified migrating back to an iPhone – big win!
I was impressed with the watch, although looking back it is likely that most of my joy at the time was around moving from the Windows Phone to the Apple iPhone. Nevertheless, some of the early benefits of the watch were:
Being able to take a call via the watch. Useful when carrying my daughter in a baby carrier.
Being reminded to stand up after sitting down for too long – this gave me a real sense of embarking on a new path to better health.
The map function helped significantly when rushing to a hospital.
When asked by curious people what the benefits of the iWatch were, I would always focus more on the health and physical activity aspects, as having visibility of my daily steps, heart rate, and exercise was providing new insights into my lifestyle.
Initially the need to charge the watch daily seemed like a pain, but it is a small price to pay for the added benefits that the new data provided. At home, all mobile/tech devices are charged in a different room to provide some breathing space from work, e-mails etc. Like many households, we have a 'no devices at the dinner table' rule.
Yet, even with discipline and this rule, my device usage started to increase, and I often found myself having to apologise for being "glued" to a screen at inappropriate times.
Two weeks ago, I was fortunate enough to take a short vacation in a remote part of France. There was very little signal there, so my mobile often telephone didn't work, and the WiFi was flaky at best. I forgot to take the charger for my iWatch. By the end of the week, even though I had been doing some work whilst away, I felt particularly rested.
When I returned home I charged the watch, and immediately began to be bombarded with updates once again. I realised I needed to stop being notified of new incoming messages in real-time. On vacation, I'd been on a mini Digital Detox wihtout realising it.
Initially, I changed all the settings of the watch apps to prevent notifications. Things certainly got a lot quieter, but the watch was still a gateway into my digital life. The temptation to use it was always present.
I decided I needed to get a different watch, if I was to have one at all. I like to record data on my physical activity, as I find this is very motivating. I needed to get another watch, but one that wasn't so noisy and disruptive.
After assessing a few models, I moved from the iWatch to a Skagen, which is fully analogue with activity tracking built-in. I found myself slowing down, not responding to messages immediately, and not being constantly distracted. My head is in a better space.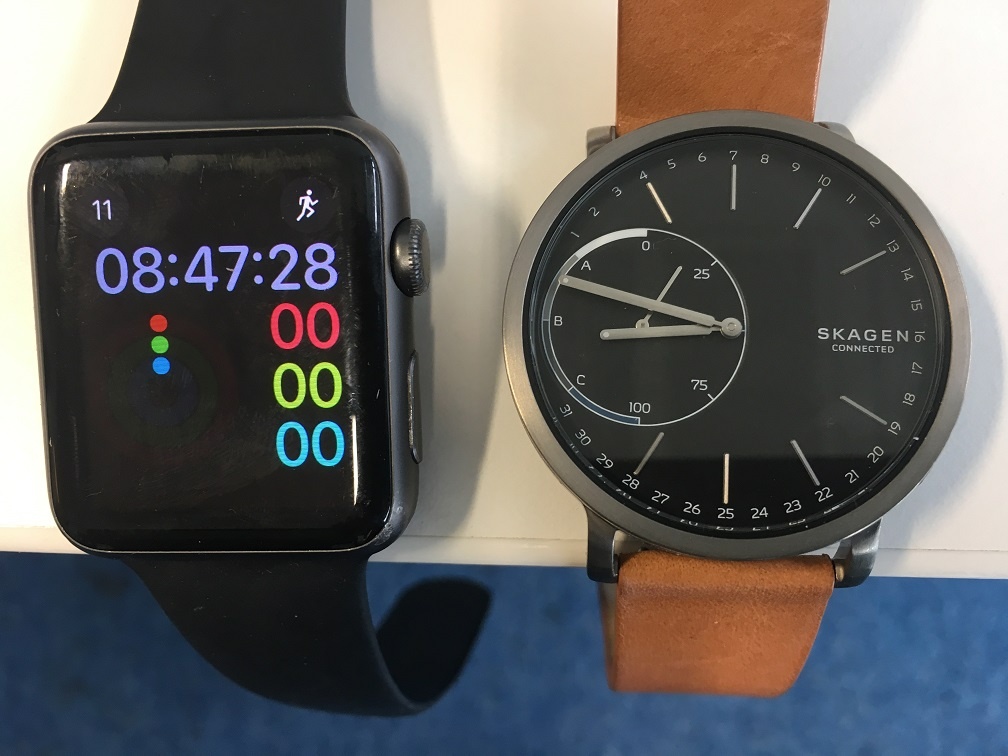 The analogue nature of the new watch I bought means I am not being updated constantly in real-time, and am feeling generally more relaxed and focused as a result. It has been an interesting experience, and I really recognised the impact of having a digital gateway on my arm at all times.
I still use the watch for exercising (technically it's not 'ditched'), and I'm not wasting the gift I was given, but the biggest gift of all was regaining some silence in my day.
{{cta('23b74a59-42a2-4a7c-8ded-6111a29634b7′,'justifycenter')}}