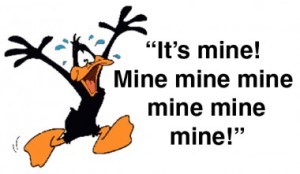 We were having a discussion in the office the other day about how expectations are changing within the workplace. What came out of it was that there is commonly an expectation of 'Entitlement' in the workplace. I've been pondering this somewhat in order to understand our discussion in more detail. It also gave me the opportunity to use Daffy Duck in a blog.
When I started work – I was a terrified 17 year old. My first job? Working in a Claims Department within an insurance brokers. It was an intense experience – being yelled at every day by people I was never going to meet over topics that I didn't really care about.
One thing was for sure – I was under no impression of my status in the company. I was reminded regularly that I was there to do the work and that was it. It was a harsh and sudden reality from leaving school – it felt quite lonely at times.
It did however make me a more resilient person and I believed through hard work I would do fine – I definitely didn't feel 'Entitled' to anything however. I'm pretty sure if I started to make requests or demands I would have been ejected quicker than a Fighter Pilot leaving a doomed aircraft.
I'm not saying this was the best experience in the world – however it taught me to listen first, speak later. This has served me well over the years – no-one likes a 'transmitter'.
So what does Entitlement mean?
Its common place now for workers to expect definite outcomes and reward without necessarily providing the correct level of output. It's a bit like wanting to get to 'C' without passing through 'A or B'.
Entitled employees are difficult to manage as their expectations can be misguided.
Here are five signs of Entitlement to watch out for, I hope they help you recognise potential problems:
Someone says to you "But that's not my job"?

They say "That's not the way we do things round here"

They regularly ask for more money without supplying consistent quality output.

They pass blame to others without consideration for their own actions.

They feel the rules don't apply to them.
Hope that helps – as always – feel free to contact me on Dave@Beyond-MA.com
Dave.
{{cta('b17addf1-af20-4a8f-9151-6e34f53e2ce6')}}