Looking to migrate from Windows Server 2003? The reasons to do it now…
Windows Server 2003 History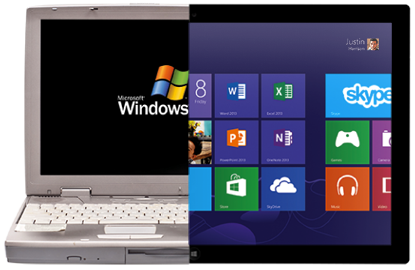 Microsoft has announced the end of their Extended Support on Windows Server 2003 as of July 2015. While it might appear as sudden to some organisations, Mainstream Support for Windows Server 2003 terminated in July 2010. That's right…5 years ago!
Despite mainstream support ending in 2010, business were not prompted to migrate off Windows Server 2003 because of the continuation of security updates and paid per-incident support etc.
Microsoft has made it clear however that to the estimated 61% of businesses still using Windows Server 2003, the impending end of support (EOS) date will bring terminations of security updates, paid per-incident support, and the use of the Microsoft Knowledge Base among other things. Below are some of the obvious risks of running Windows Server 2003 past its extended support deadline.
Risks running Windows Server 2003 after July 2015

-No security fixes
Regardless of the severity, customers of Windows Server 2003 will not have access to security fixes. Although with aging applications more likely to be inward facing than outward, security fixes prove to be one of the most critical deliverables to customers. Without them, customers are tremendously increasing internal risk and allowing themselves to be extremely vulnerable.
-No further updates
In 2013 alone almost 40 critical updates were released for Windows Server 2003 under extended support. Without updates, forward thinking organisations are limited as there will be no updates at all issued to your current server.
-No Support
With a large security risk and a lack of internal updates, there will also be no support to assist potential server problems. Customers could experience:
System outages
Lost data
Lost applications
Un-restorable systems etc.
Without Microsoft's support, organisations may find themselves on their own.
-Failure to Meet Compliance
To make matters worse, regulated industries that are apart of the cardholder data environments (allowing credit, charge card or debit transactions) might find that by continuing the use of Windows Server 2003, they are breaking PCI DSS compliance rules. Both virtualised and physical instances of this server will result in vulnerability. This results in potential fines or elimination from key trading partners in order to protect their status of regulatory compliance.
-Failure to adopt cutting edge cloud alternatives
Many of the Windows Server 2003 installations were 32-bit solutions. This means that customers who are looking to migrate to modern cloud options will not be able to continue using their current operating system. 32-bit solutions need to be tested against 64-bit systems like Azure which could be a lengthy and costly exercise.

But Windows Migration is complicated and expensive…
Think it would be too difficult now? The challenges will only increase as time goes on and at the end of the day, challenges can be mitigated. Budget constraints and resource limitations might also be problematic, but in the long run costs are continuing to go up and by migrating you will increase your overall organisational value by minimising unnecessary risk and gaining software standardisation.
Decide on the fate of your operating system
Windows Server 2003 has been going for 11 years strong and has proven to be a reliable asset to millions of organisations. Moving forward, if Windows Server 2003 remains to be a large part of your IT Infrastructure, minimise risk and prepare for the next generation of IT assets by planning your migration as soon as possible.
Server Migration Tools by Microsoft, such as the Migration Planning Assistant (as reviewed here) make it easier to decide the fate of your operating system. They do however require additional effort to summarize for upper management.
How long does it take to complete a Windows Server 2003 Migration Project?
On average it takes over 200 days.
Don't worry though, with the right team and tools, organisations can view this operating system update as an opportunity to grow and adapt. In the future, your organisation can look forward to reducing the complexity of its IT infrastructure and preparing for tomorrow's business.
Are you planning a server migration? Get more information here.
{{cta('58382c83-6bf2-4694-bb22-e88987b64a35')}}