So we are just starting a brand new year – how's things shaping up for Windows 10?
Since Windows 10 was released on the 29th July 2015 to much global fanfare, Microsoft have just announced that 200 million of us have decided to upgrade
Happy New Year from the Beyond Team!
So we are just starting a brand new year – how's things shaping up for Windows 10?
Since Windows 10 was released on the 29th July 2015 to much global fanfare, Microsoft have just announced that 200 million of us have decided to upgrade (https://blogs.windows.com/windowsexperience/2016/01/04/windows-10-now-active-on-over-200-million-devices/). This has been helped hugely by the ability to upgrade to the new Operating System free of charge, this has spurred a kind of 'why not' attitude – particularly for the home user.
We have no doubt that business will follow the home users. They have to since Windows 10 is the 'last' variant of the Operating System from Microsoft. As you all know Windows 10 is has been developed as a 'service' model meaning the product will continually be updated but never 'replaced'. This makes life significantly easier for Microsoft as there will no longer be any harsh market shaking changes to an interface or usability that we will all soon become used to. Let's face it – no one likes significant change. It takes time to adjust, learn and become efficient again. Apple knows this which is why they don't do it. They make tweaks and improvements – they don't radically redesign like Microsoft did with Windows 7 to Windows 8.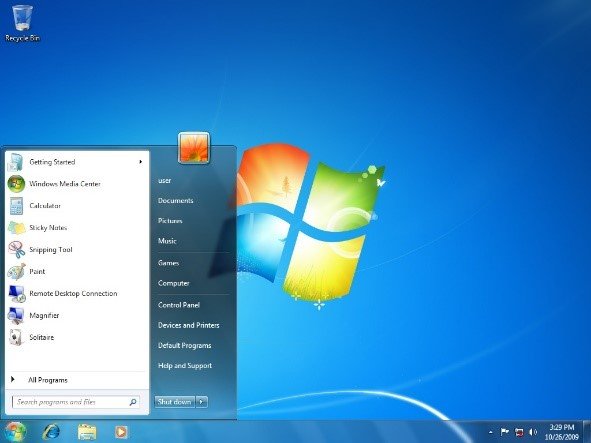 The familiar Windows 7 Interface versus the much dis-liked Windows 8 Start Menu.
Due to this the business community refused to embark on a costly upgrade to Windows 8 preferring instead to sweat their Windows 7 assets. Not good for Microsoft!
Microsoft clearly had to listen to the user community feedback, most simply did not want a full touch screen interface – we like our keyboards and mice! Particularly business. A compromise was needed, and so Windows 10 arrived with an interface which combined the best of both worlds.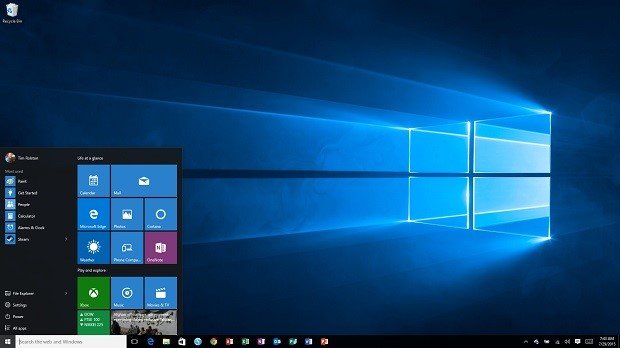 The Windows 10 UI.
So where are we now in terms of Operating Systems in use today? The below graphic paints an interesting picture. It demonstrates how hugely popular Windows 7 was/is with a 55% share but also how desperately un-popular Windows 8 was having only a 10.3% market share.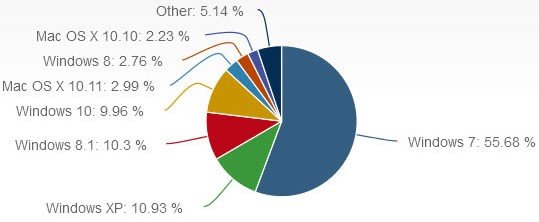 Source – NetMarketShare
Windows 10 still has along way to go, however Microsoft state:-
'In fact, Windows 10 continues to be on the fastest growth trajectory of any version of Windows – ever – outpacing Windows 7 by nearly 140% and Windows 8 by nearly 400%.'
This is an undoubtably impressive figure. Business will see this as a positive sign to progress with building convincing Business Cases.
The 200 million figure has no doubt be helped by the ability to upgrade for free, something Microsoft have never done before. This is a cunning strategy by Microsoft. Give the product away for free to home users to demonstrate to sysadmins and business that in-place upgrades do in fact work….200 million times. No longer is "wipe and replace" the only stable option for business.
Home users will often translate their personal experience into the workplace (one of the reasons Windows 8 failed). 'My broadband is faster at home' or 'Why is my PC at work so slow/old' – we've all heard these from our user community. They are correct of course. So with Windows 10, Microsoft are hoping that these users will start to ask questions to their IT teams as to why they don't have this technology in the business.
To convince users to on-board to the platform rapidly, Microsoft have only allowed the update for free for one year. 'Be quick or pay between $100 to $150'. This in turn generates more interest as people talk to their friends and share their experiences.
For business Microsoft are making life easier with deployments, with the following announcement:-
'Beginning with Version 1511 of Windows 10, you can now use your Windows 7, Windows 8, or Windows 8.1 product keys to activate Windows 10 without doing an in place upgrade. This will be a huge timesaver for partners deploying new images to their customers. Originally, to take advantage of the free Windows 10 upgrade, you had to do an upgrade of an existing Windows 7 or Windows 8.1 installation. This made deploying a new customer image more difficult since the typical image deployment plan is to wipe and reload the OS. '
http://blogs.technet.com/b/uspartner_ts2team/archive/2016/01/04/deploying-windows-10-just-got-easier.aspx
However there's a catch. If you dig deeper – you discover this:-
'Some Windows 7, Windows 8, and Windows 8.1product keys can't be used to activate Windows 10, such as product keys for volume licensing, including Generic Volume Licensing Keys (GVLK) and Multiple Activation Keys (MAK), and Windows 7 Enterprise, Windows 8 Enterprise, and Windows 8.1 Enterprise.'
This effectively means business will struggle to take advantage of this as most will use Volume Licencing and Enterprise versions of the Operating Systems. Shame, however to be expected.
So in summary.
Windows 7 expires on the 14th January 2020 and Windows 8 in 2023. Plenty of time you may think? Well no. If you are a IT decision maker within your business – you need to start thinking about your deployment strategies. This is a time consuming process that needs careful consideration.
Our advice is to get ahead of the game – sweating old versions of Operating Systems if rarely a good strategy. You will lack the latest security features, software and compatibility. Not to mention those disgruntled users who expect their business technologies to keep up with their home devices…… Forward thinking CTO's will be instructing their teams to commence the discoveries and analysis to build convincing business cases.
The longer you leave the decision to upgrade – the harder it is likely to be.
Until next time,
The Beyond Team.
Windows Migration Software and Services
Integrated cloud migration and managed services