An archive blog post wich is interesting to read considering the up and coming release of Windows 10:
There has been a lot of negative press reports on Windows 8 but as someone who has used it from the Beta release I would like to Champion its cause rather than rush to its defence. One of the biggest criticisms seems to be around the duality of the desktop and the interface formally known as Metro. The other point seems to be blogosphere and pundits seem to want to reinforce the impression that Windows 8 is difficult to use and not intuitive.
To test this supposed difficulty of use I gave my Surface RT successively to my 8 year old niece and 6 year old nephew. After the initial excitement of the snap on Touch cover 'just like the TV' they set about surfing the web and playing games with no help from adults. They were able to navigate to the Store and add free Apps and never once asked me for assistance. Then even the 3 year old little sister got in on the act playing games with them no problem.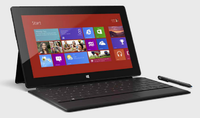 I soon realised they were showing a complete preference for 'Metro' interface and didn't realise the Desktop was there. In fact they didn't really have any use for it. In my own use I realised that I used the two interfaces for two different purposes during my day, both working and in my down time.
At work I reside mainly in the Desktop running familiar applications but occasionally flipping back to Metro to check Live tiles for feeds. The reality was for me that is the Desktop interface so different? Sure there was additional functionality lurking in the corners of the screen but once I used these I actually realised this was pretty powerful and reduced my clicks to get to functionality I used. I also find more and more the place I launch applications is the Metro Start screen, it's just becoming the normal way to launch.
This made me think have we been stuck with using the interface from XP for too long? Could someone who has only used XP swap back to say Windows 3.1 or NT3.51? Windows NT just had its 20th 'birthday' should we really be harking back to how we worked then?
A great example is I didn't sit on the sofa 20 years ago reading news off the internet so for me the Microsoft Surface, even the RT incarnation is a great companion device for taking notes in meetings while at work, triaging the steady stream of email during the day then sitting in front of the TV during the evening but still being able to dip in and out of email and documents without upsetting the family.
One of the factors around the negativity is something that Microsoft is unable to control with PC vendors supplying the bulk of the hardware and it's something we don't really see as IT professionals. We tend to build PCs as a vanilla deployment but for the home consumer the sheer volume of 'crapware' loaded by PC manufacturers to lower price, file associations changed and applications asking for registration fees after free trials makes the Windows 8 experience far worse than it should be. This is something that was prevalent in most previous consumer versions of Windows and has not gone away but really hinders the experience.
Don't get me wrong I do see things that Microsoft hasn't got right yet, and I do think yet is important when it comes to Windows 8. For example whilst snapping of Apps in Metro is not great as I like to run multiple Windows in Desktop but the experience is improving rapidly over time. With a much faster update cycle Microsoft is able to react much easier to feedback and with the imminent launch of Windows 8.1 from looking at the Beta something as trivial as the return of the Start Button I think shows this responsiveness.
I would urge you to keep an open mind and try using Windows 8 exclusively for a couple of months, there's no need to wait until 8.1 to get familiar with the what's new and to quote Mark Twain 'It is wiser to find out than suppose'