How to manage OS End of Life during A Windows Migration
As a part of the Migration Management tools for windows (watch video here), Lens offers, OS End of Life, which proves to be a vital tool in highlighting servers and devices that have reached the end of their product life cycle. Raising awareness on the support covering your IT assets allows your organisation to efficiently plan their IT investments moving forward.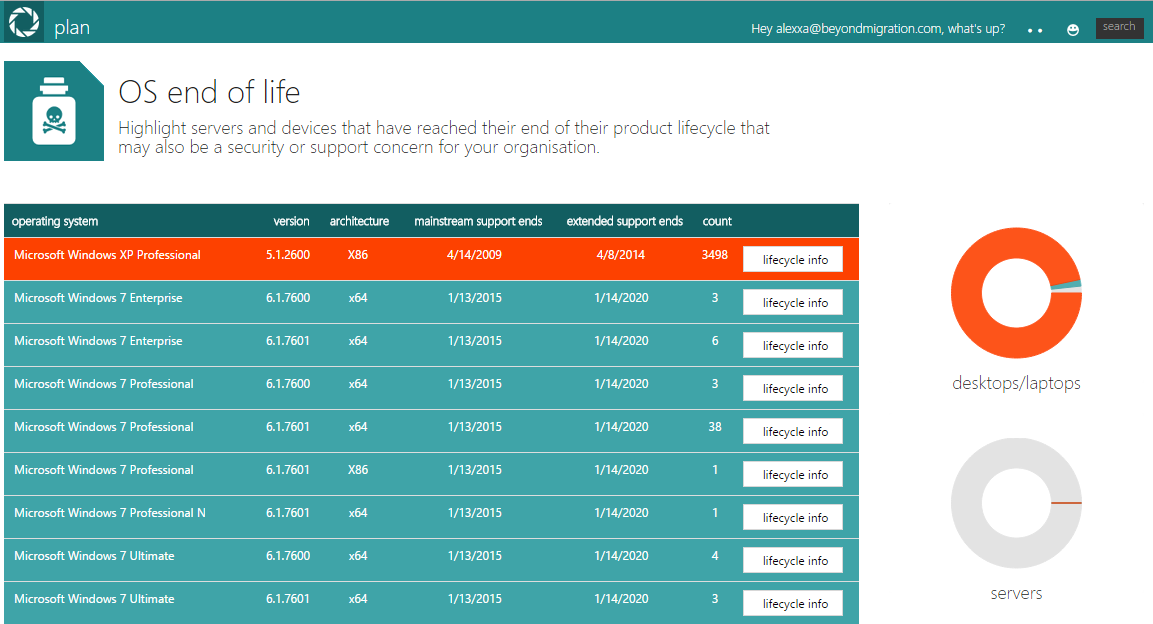 'Operating System End of Life' is a phrase that is commonly used, but what are the actual implications and what are the risks associated with discovering operating systems that have reached their end of life during a windows migration project?
Operating systems reaching end of life can be a risk to an organisations
Security

Compliance

Finances among other issues.
Continuing using unsupported servers or applications as demonstrated by Microsoft include elimination of security fixes. Without sufficient anti-virus updates, organisations are at risk of malware, spyware or lack or regular security updates leaving them very vulnerable. This puts important business documents at risk and no updates.
Compliance Issues can arrise when doing business with other organisations depending on rules and regulations.
Finances within an organisation are also at risk as unplanned technical updates, or supported options will need to be explored if not proactive. By standardising and simplifying your internal systems you can save a lot of finances.
Migration managmenet tools make it easy to view s
ervers or devices at their E
nd of Life…
Within the Migration Management tools in Lens, the OS End of Life visually portrays the percentage of desktops/laptops and servers that are currently supported, issued with mainstream support, or issued with extended support. A table displays the servers and devices' operating system, version, architecture, and when the mainstream and extended support ends as well as the count. Life cycle information is also available.
Has your orgnaisations IT environment reached it's end of life?
{{cta('57b8f2fc-6764-4e5e-b73f-823aa720b2aa')}}