Welcome to Part 2 of our blog on Windows Server 2016. In the last part we discussed the different editions of Windows Server 2016, licenses and how Storage Spaces Direct could offer an alternative from typical storage solutions for certain services.
This week we will be looking into Nano server and containerization.
One of the most widely talked about features within Windows Server 2016 is the new Nano Server feature. This new method of rolling out your core servers creates a server with a tiny footprint. Far smaller than even a core installation of previous versions of Windows Server. To give you an idea of the footprint, Microsoft has released an evaluation VHD of Nano Server which is 550mb in size compared to the full version which is over 6GB. Pretty impressive.
Have a look at these metrics which show, not just the footprint but gives an insight into how different Nano Server is from the standard installation:-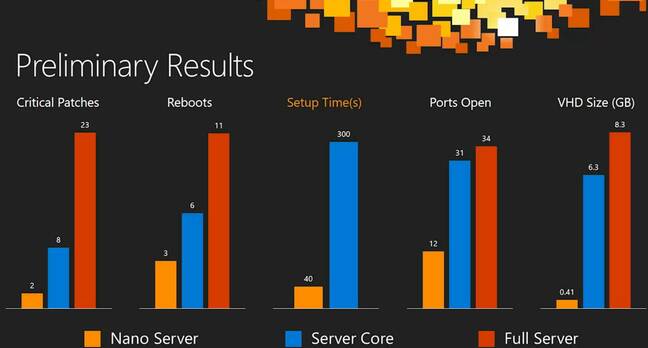 Microsofts benchmark results for Nano v other versions
So it requires less patching due to the reduced attack vector risks given the lack of GUI and hardening and its far quicker to install.
So what might you use this new version of server for? After all, Windows Core installation wasn't a popular choice for the IT Pro due to the increased complexity in administration. The news is – this isn't going to change. Nano Server is even more stripped down than core – so much so that it can only be administered remotely – this is generally referred to as a 'headless' Operating System.
But this "complexity" requires a change in approach to make management of nano servers within Windows Server 2016 "easy". Namely sysadmins will need to learn how to deploy and manage servers using PowerShell or even via Visual Studio and c#. As the data center becomes defined by software there is more need for good developers with infrastructure backgrounds. It is an opportune time to learn how to code and how to speed up delivery in order to deliver "continuous improvements", or "CI" as it is often referred to.
The key aspects of this technology is to be able to run applications that are isolated using tiny (nano) servers. If an application crashes it only affects the single user and due to the tiny size of the server it takes seconds to reboot. For those of you that use Netflix you are using this sort of technology every time you watch a program or film.
The primary uses for Nano Server will be:-
Hyper-V. You will be able to potentially deploy hundreds of these servers creating a huge scaled environment that is far more dynamic by nature.

Cloud Applications. Perfect for Dev-Ops.

File Servers. The ability to scale out resilient but lean servers will be of great interest to IT Pro's.
Nano Servers can be managed currently via the following methods:-
Hyper-V

MMC Snap Ins

PowerShell

Desired State Configuration

Server Manager (You will need to add the server to an existing Server Manager)

System Center
Other tools such as Chef and Puppet will be supported. This will be important to Dev-Ops – an area that Microsoft is specifically targeting with Nano Server.
If you want to see how this works in practice, take alook at this video:-
The key thing to remember about Nano Server is that there is no support for 32bit applications.
If you want to evaluate Nano Server, you can download the evaluation here:-
http://blogs.technet.com/b/nanoserver/archive/2016/01/07/download-just-nano-server-in-a-vhd-windows-server-2016-technical-preview-4.aspx
That's it for Part 2. Check back for Part 3 next week.
Windows Migration Software and Services
Integrated cloud migration and managed services