Windows Server 2016 is due for release in Q3 of this year, however with most of us still migrating to Windows 2012 R2 – where are the benefits? After all – most Enterprise businesses still have their own datacentres for various reasons, some of them are regulatory and others will be client confidentiality issues. Changing your server Operating Systems whilst not as technically challenging as desktops (servers are reasonably static in nature) is still a costly excercise for the Enterprise, requiring challenging business cases and significant Capex allocation.
For Part 1 – we will take alook at the versions of 2016, licencing and the Storage Spaces Direct feature.
Server 2016 licencing
There are two editions of Server 2016 that you will need to consider:-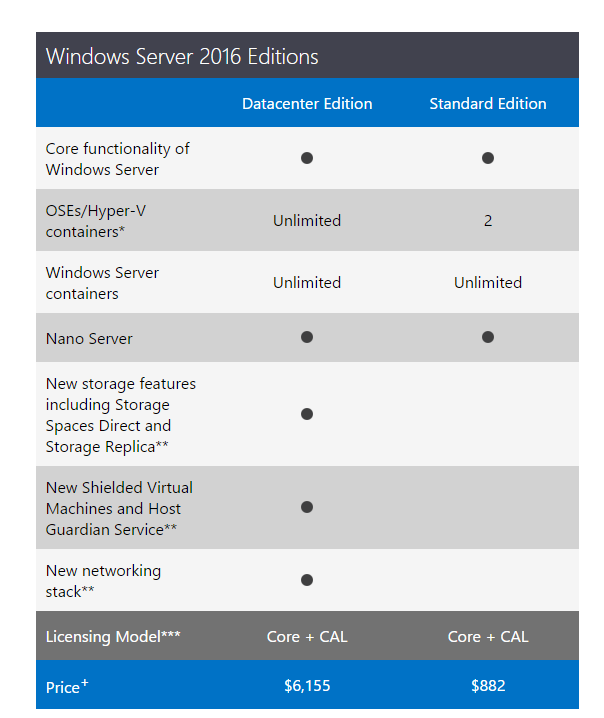 Essentially it boils down to whether you want to use the server for Hyper-V and with that, explore the new storage related features to scale-out. The licensing and related decisions are much simplified from earlier versions, and it appears Microsoft realised that over-complicating the editions caused confusion.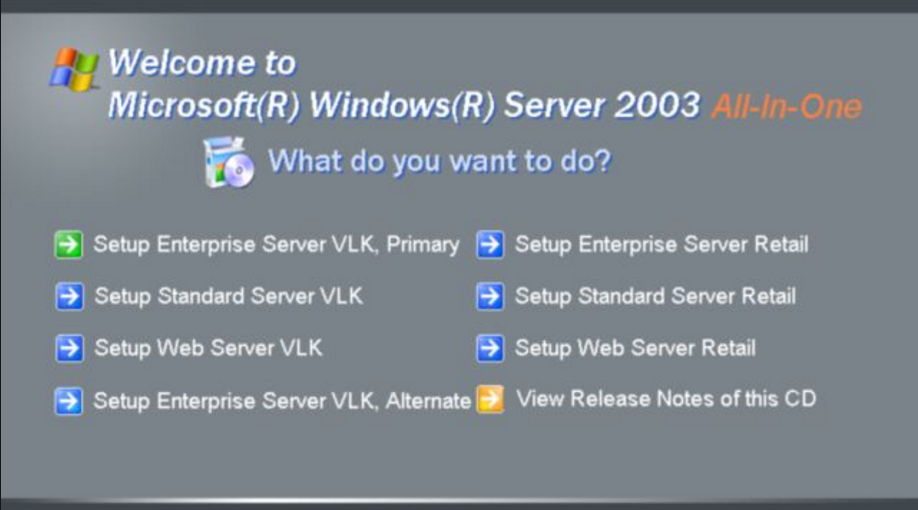 Which one, which one!?!?
In regards to Windows Server 2016 licencing, the model has changed. Previously you could apply a Windows Server licence to the number of physical processors within a given server. However Microsoft have realised that with an ever growing number of cores within physical processors – they needed to change the strategy. Therefore, you must now licence the equivalent cores.
There is however, a minimum purchase of 8 cores per processor and you must purchase a minimum of two packs per Windows Server 2016:-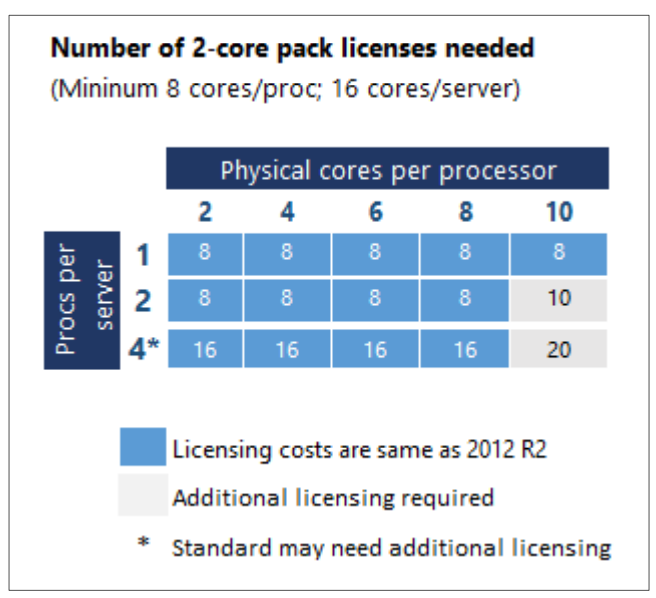 So the purchase strategy is rather flat – but potentially costly depending on the hardware purchased and your licencing strategy. Ask your Large Account Reseller or equivilent for advice on the best way to licence your Windows Server 2016 estate.
Storage Spaces Direct.
A lot of the features within Windows Server 2016 are related to the 'Software Defined Datacentre' ideology and the new Storage Spaces Direct builds on this further. Previously Hyper-V etc relied on centralised storage (Enterprise) to create an effective means of scaling out large virtualized deployments. These storage technologies are typically costly however in both Capex and Opex terms. Now with Windows Server 2016, Storage Spaces Direct on enables the sharing of localised storage within the servers themselves.
Hyper Converged example of Storage Spaces Direct (all roles on the same physical servers)
This could have various advantages:-
Ability to organically scale out storage resilience

Reduction in centralised storage in terms of costs and footprint

Allows the supporting teams to have direct control over the storage
The deployment of this configuration could aid the segration of responsibilities within infrastructure teams so that they retain direct control over the services they provide. We previously seen issues at previous clients whereby Microsoft Exchange teams were frustrated by the impact that shared storage was having on their services. Having the storage spread across multiple servers (potentially redundantly positioned) aids resiliency and control.
Take a look at this video for more information:-
Check back for Part 2 on Windows Server 2016 next week.
Windows Migration Software and Services
Integrated cloud migration and managed services