In the realm of business success stories, the tale of the start-up hardware firm Compaq offers a compelling narrative. From the beginning, the Compaq team was strategic about integrating sales into the very fabric of their business. Even before any hardware designs were finalized, their sales team was already meeting prospective clients, famously sketching the envisioned product on a napkin to drum up interest.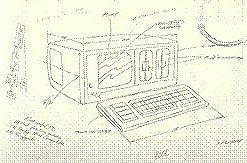 This methodology takes inspiration from the "sell the house before you build it" or "making the parachute after you jump" ideologies.
However, underpinning this savvy sales strategy is the unsung hero of business: lead generation. After all, what facilitated that salesperson's coffee meeting with the prospect in the first place?
The answer is simple yet crucial: an attention-grabbing lead generation system.
The Complexity of a Lead Gen Machine
Over the years, we've found that the most effective companies operate a lead generation machine as intricate and technologically advanced as their core product, especially in the e-commerce sector.
We recently evaluated an e-commerce system, and it struck me how the technology platform behind their lead generation was perhaps even more sophisticated than their primary service offering. And the team presented their lead gen system as part of their wider application architecture diagram.
The question is – who is responsible for this? Marketing Due Diligence or Tech Due Diligence?
The Mark of Excellence
In other instances, we've witnessed marketing teams hiring AI engineers and specialists to code complex systems that segment their customer bases and tailor offers to individuals. These aren't mere extensions of a marketing department but integral components of the business.
The technology driving these lead generation systems often equals or even surpasses the core product in complexity. In some cases those firms have presented an 'system architecure' similar to this diagram:

Key Characteristics of Top-Performing Firms:
The lead gen/marketing system is part of the application architecture, not an afterthought.
The company treats the lead gen system as an equal to, or perhaps even more critical than, their core product.
The firm maintains, iterates, and innovates its lead gen system as diligently as they do its main product.
The businesses we evaluate typically excel at lead generation; otherwise, they wouldn't be candidates for investment or acquisition. In an environment where every firm is racing to perfect its product, equal attention must be given to lead generation.
Lead Gen is not just a supplement; it's a product in its own right.