The key objective of this post is to ask you to burst out of the 'bubble', get out of your comfort zones and explore plans for quicker growth. A brief video summary can be watched below:
During tech due diligence sessions, we've had many discussions with firms about the differences between private equity and trade buyers and the impact on the tech team's plans.
This is especially true for vendor Tech DD, where the firm is getting ready for sale/investment and considering interest from both PE and strategic or corporate buyers.
Simply put, what will be assessed and what matters to the investors (beyond revenue and growth) will be different. So I will explain the key differences to ensure you're prepared and present accordingly. For those that prefer a summary, it is presented in the diagram below: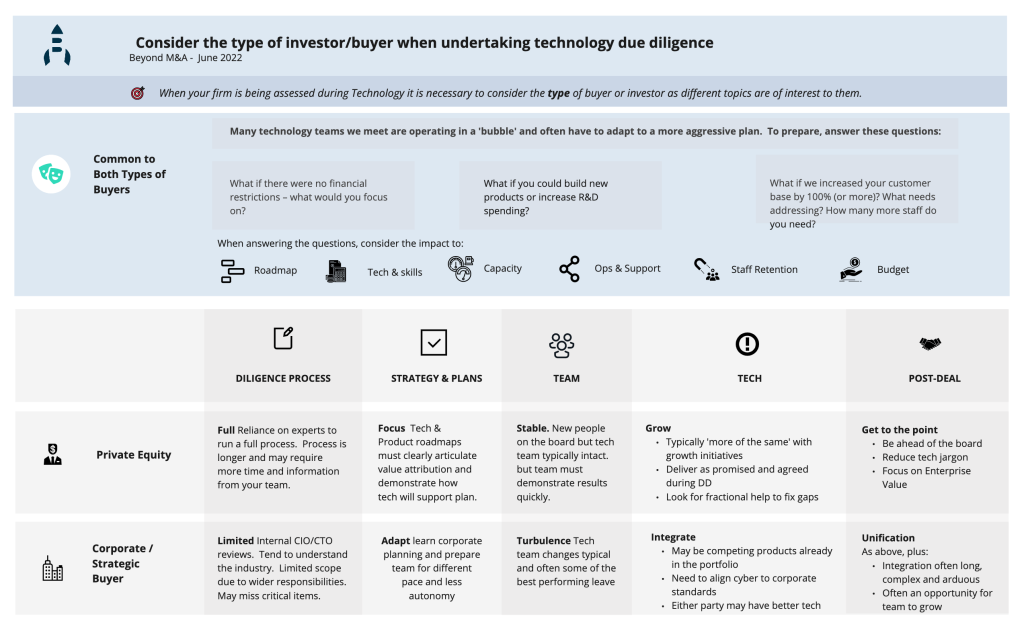 Living in a bubble
Before delving into both types of investors, many teams we meet pre-deal are operating in a bubble, thinking that the growth plan, reporting and KPIs they have today will suffice post-deal. And then the deal goes through, and the pace changes rapidly.
Suddenly, the growth plan becomes more aggressive, which is not bad as long as you're prepared. For instance, one of our team members was involved in a start-up as the fourth employee; they hit something of interest to a much larger firm and were acquired. As a result, they grew from four people to six hundred and fifty in eighteen months.
In that case (regardless of the type of Buyer), the acceleration is so fast that everything needs consideration – especially the software development processes, the ease of onboarding developers and how you manage security and release management. And the overhead of interviewing a ton of people!
So my suggestion is to consider your scaling plans and consider 'what if' situations:
What if there were no financial restrictions – what would you focus on?
What if you can build new products or increase R&D spending?
Best to last. What if we (as a trade buyer or PE Investor) increased your customer base by 100% (or more)? What needs addressing? How many more staff do you need?
The key output from these questions is an exploration of scaling opportunities, challenges and associated spending that are helpful to present to the board and identify new opportunities.
Trade Buyers
Trade buyers are typically larger companies in the same industry as your company. They're looking to acquire businesses that will complement their existing product offerings or help them enter new markets. In addition, they often already know your market, so less time is spent getting to know it. Hence, the diligence process can be quicker.
Trade buyers tend to be more interested in the technology and IP of the target company and how the tech can provide value within their current product suite or offering. They're also more likely to keep the target company's management team in place.
Tech DD may be reasonably informal, depending on how acquisitive a firm is. For instance, the buyer's CIO/CTO/Architect may be assessing the tech and team over a short period. That exec has a much bigger firm to run, so they have limited time to evaluate your tech. This is a dual-sided sword, on the positive, they won't have the time to dig too deeply but if important aspects are missed they can cause issues post-acquisition, often leading to challenging 'them and us' situations.
I think this happens because of the assumptions made on both sides.
Trade buyers want to demonstrate that they have "been there, done that" and are highly experienced in M&A – ultimately to assure you that your team will be in safe hands. And the target firms being acquired believe this to be true, so they let the buyer take the lead / assume that enough information will be collected and examined.
With both parties thinking the other misled them.
The worst case I've experienced was when a tech small firm was being acquired and many assumptions had been made due to the size of the company, historical spending etc. Post deal, it turned out to have a huge tech, complicated tech stack and the two-three month integration quadrupled.
In that situation, everyone was under immense pressure and always on the backfoot. From the CIO of the buyer's firm who had to explain to the board why they were always delayed (and spending a fortune on consultants) to the engineers of the acquired firm who were not trusted – having not disclosed key information. The reality is, they were not asked.
So, it is critical to consider that during the due diligence period, it's easier for the acquirer's tech team to request funds to address problems than it is post-deal (noting this may raise some concerns regarding the M&A deal negotiations).
My advice would be to give the exec the necessary information, warts n all. An acquisition like this is a long-term marriage, and it's worth starting on the right foot. I've witnessed so many of these go wrong.
So there are a few things for you to consider, if a trade transaction is on the horizon:
What is the acquirer's intention?
You need to understand the strategic intent of a potential acquisition/investment. You may not be able to ask this question during the assessment, but you can dig online to see what happened to other acquired firms.
Ultimately, the buyer's overarching strategy is to decide whether to absorb the target business by the acquiring business to their own ways of management, should the target preserve their management culture or a mish-mash of both companies?
Haspelagh and Jemison's classic model below helps teams understand the four choices when it comes to M&A integration.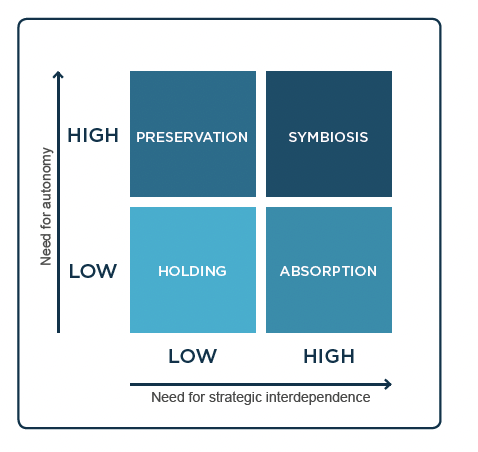 The model suggests there are four distinct strategies that buyers may be following as they acquire companies:
Preservation
Preserving the acquired company, effectively leaving it as a stand-alone brand and operation. In this situation, your business, and therefore your tech runs independently post-deal.
Symbiosis
Looking for cross synergies. In fact, many businesses opt for the mish-mash option where they believe that they
can adopt each other's better practices and thereby, have a better process in place.
Absorption
Full integration of the acquired business, technology and teams to sit under a single brand.
Holding
We used to run M&A integration courses with our good friend Anirvan Sen pre-pandemic. It was always fascinating to see highly-experienced M&A integration attendees look at the H&J model and identify where their firm sat – and often that was in 'Holding', i.e. no clear strategy.
You can read more about the Haspelagh and Jemison model and the headline sums it up nicely:
Better management of the pre‐acquisition decision‐making and the post‐acquisition integration processes can improve an acquisition's potential to contribute to strategic renewal.

The challenge of renewal through acquisitions, Philippe C. Haspeslagh, David B. Jemison
Bottom line: pre-deal, knowing the M&A integration strategy from the outset is good because you can review and revise your tech roadmap accordingly. Whilst this may not seem a technology due diligence concern, some research upfront can help you plan a better outcome for all post-deal.
Is the technology to be left standalone as its brand or to be integrated?
As a follow-on, it is worth considering the intention for the technology offerings. Your company has built IP others are prepared to pay good money for. If integrating, how successful have they been in the past (and is it a good idea to integrate in the first place?)
What products or elements of your tech stack are superfluous to needs?
If specific product offerings or parts of your technology are already being offered, the firm has already acquired one or more firms like yours; then there will be an impact on the team and this could lead to redundancies. There isn't much you can do to avoid this – making such cuts will be part of the investment thesis.
We have seen tech leaders try and overcome this by justifying the existence of team members by increasing the maintenance ratio (i.e. presenting a need for more people to support your product, the time spent on BAU) . But this is to shoot oneself in the foot as it will raise questions from the buyer/investor on the quality of your products if they need so much upkeep and you don't trap staff into support positions. Be ready for change.
You can watch this video to learn more from (post-deal) M&A stories from a trade/corporate buyer perspective:
Private Equity Buyers / Investors
On the other hand, private equity firms are usually looking for companies they grow and sell on. The assumption is they tend to be more interested in the target company's financials than tech. However, technology has an impact on the value creation plan hence the growth in technology assessments we're being asked to undertake.
If the investment/acquisition of your firm is a bolt-on to an existing portfolio firm, then the 'trade buyer' notes above are more relevant especially if the buyer is already in your market. If not, then read on.
Firstly note the type of Tech DD. Some PE houses now employ an internal technology expert, and others will engage with specialist firms like ours to run the assessment. The main difference between this assessment and the trade-buyers is less knowledge of your industry.
Hence the Tech DD approach is more comprehensive and has to present a layman's narrative of your tech, scalability, risks, opportunities etc. This is because many non-technical parties will read the technology report as part of their risk-assessment process.
The roadmap needs validation to be driving value
Luckily unlike a trade buyer, you don't have the same four-step Haspelagh and Jemison's model / end-stage options. It is more likely your brand (and therefore tech) will be preserved, so there are none of the integration concerns.
But there will need to be a clear technology roadmap that demonstrates why you're taking the direction(s) you're presenting and why it will bring value to your business. Having worked between investors and portfolio firms post-deal to determine 'what went wrong,' it's often due to a misunderstanding of expectations and the need for the tech team to ensure it's providing the best solutions to support predictable growth. So you may have to re-assess your in-flight projects, focus on areas of certainty and address long or ongoing initiatives – before someone tells you to.
The pace will increase. Rapidly.
Our experience working with tech leaders, with whom we build good relationships throughout the deal process, is that some of them won't have prepared for how much the pace will suddenly increase post-deal. The pace increase will depend on many factors (e.g. product integration, new customers etc) , and initiatives to make the most of the perceived value in the firm will take off almost immediately.
The challenge is that everyone is checking each other out post-deal. The new board will have high expectations (based on promises made pre-deal), and you don't want to be a typical tech guy, unprepared yet vital to business success.
A suggestion is post-deal, ensure you keep on top and ahead of your board. This means creating and maintaining a clear strategy and roadmaps and spending the time to look at the financial returns of your efforts and add that to your board pack where appropriate. Ensure they are easy to comprehend and align well with business growth plans so that the tech team's contribution to business growth is continually monitored and the board are reminded.
More Governance and Expectations
So the business and tech are preserved. But the team isn't – there may be additional members or other trusted sources/turnaround experts who come on board, especially if the founder(s) are leaving the business as part of the deal.
Therefore it is wise to consider the issues you already know of within the team and operations and if you can do anything to address them now. Because you don't want to be on the back foot, trying to explain why something wasn't delivered on time or issues occurred now that you are under more scrutiny.
Ultimately – ensure you align your narrative to the type of buyer you're meeting with
This relates to both types of buyers. Of course, when I state narrative I am not suggesting you 'make up' a story, but it is worth sitting in the investor's shoes for a moment and understanding what's of interest to them.
In both cases, it is wise to consider the impact of more aggressive growth plans and identify where work is needed in the tech team to support them. I tend to find teams are more excited about a Private Equity backed buyout than trade often because they will continue to operate as-is and still grow the firm/technology as per the original intentions, but in either case, they are often an opportunity to grow.
To summarise:
Understand your buyer's intentions and what's of interest to them
There are differences if it's a trade buyer vs a PE investor and therefore your responses will need to be tailored to that audience
Be prepared for and plan what will happen once the deal goes through