How do you build a Technology Due Diligence Report?
I have always worked on the basis that if you share your core ideas, it declutters your mind and frees up the capacity in your brain to learn and accumulate more.  So we are sharing ours.
Providing you with an upfront explanation of what to expect will help you prepare.
Methods make the 'complex' simple.  Management consultancies pride themselves on their methodologies as being prime intellectual property.   In addition, a 'method' helps customers understand that you can take their complicated need or issue and put it through a tried and tested process to solve it, with the appropriate points of interaction and output shown.
A 'method' is a selling tool that allows us to sell the approach to all parties involved: the investor, the target business being assessed, and lastly, the consultants running the project.
So why share ours?  There are three key reasons:
Sharing the general approach allows you to prepare to make the most of the assessment.
Most Management Consultancy methodologies are the same high-level processes: assess, analyse and report.
Making the method public allows others to contribute; think of it as making it 'open-source.'
And ultimately, value comes from the people and execution, not the approach.
Sharing information fits nicely with our 'give first' attitude to business.  To align with this and demonstrate the power, There are two valuable and successful resources I know that openly give information away freely:
John Kim's excellent 'Consultants Mind' Blog.  A mini MBA in text form.
The Entrepreneurial Operating System (EOS) Toolbox.
"To me, ideas are worth nothing unless executed. They are just a multiplier. Execution is worth millions." Steve Jobs
I've made my case why it's important to share the methodology, so let's dig in.
IT Due Diligence – A Little Bit of History
Whilst it's a fast-growing market, Technology Due Diligence is not a new offering –  proven by this patent application made in the US  in 2006.  The technology is old, but the intentions, processes and outcomes are the same.  If you take the time to read it, you'll see this document isn't a technology due diligence checklist.  It's a detailed description of the end to end process but a little on the dry side.
The document describes the target assessment process, how it will be assessed, and how it will be presented back to interested parties.
A method of assessing information technology (IT) may comprise collecting IT information about operations of an enterprise. An IT assessment is then generated based, at least in part, on the collected IT information. In some embodiments, the collection may occur - at least in part - automatically. For example, the automatic collection may include identifying known data associated with the enterprise, dynamically generating at least one of a document request and a questionnaire based, at least in part, on the identified data, and electronically transmitting the dynamically generated request or questionnaire to the appropriate recipient. In some embodiments, the IT assessment may comprise an assessment approach, an executive summary, budget and opportunity analysis, long-term and/or near-term recommendations, and a scorecard.
Whilst the authors are not actively promoting this patent application, the detail is freely available online and has been for at least a decade.  So nothing new here when it comes to originality.
The outline process documented in the patent is as follows: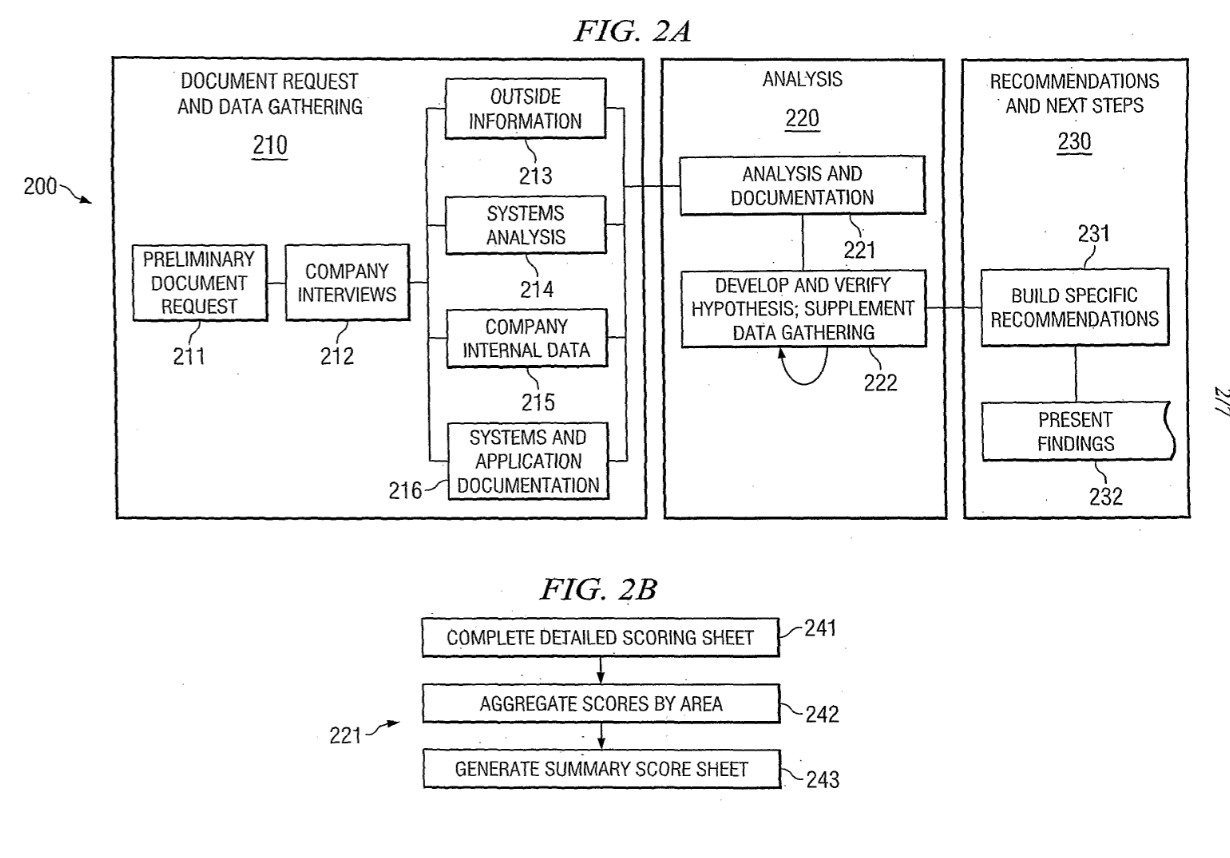 First, the author collects data, analyses it and then presents recommendations.
ACT  – Technology Due Diligence methodology
We assume that once the report is published, it will be read by a cynical reader who will tear it apart and look for issues.  If the reader doubts the substance or senses positive bias, they will dismiss the report.  This approach and insight are because we have worked on both sides of the table and have seen well versed and educated technology 'gurus' do precisely that.  Presenting a credible, balanced report that is both technical and commercial is an art.

Assess
Compared to the historical Technology Due Diligence process stated in the patent above, we start by understanding the business model and value proposition.  This initial step helps us understand the investors' assumptions – how they assume technology presents and creates value in the target business.  Note also that starting from this position immediately focuses on the commercialism of the supporting tech solutions.  Therefore, there is very little value in having a tech-only report.
Once we understand the business, we combine the data and document collection with analysis resulting in an initial position or report at the end of the first stage.
Challenge
From stage two, our process differs significantly from the patent application.  There is more interaction to ensure what we are seeing is challenged appropriately.  There is little value in recording information presented by management (i.e. you).  We need to clarify it.  Examples might be asking you to update or test your ML data model or allow us to work through a technology change.  During this process, what is key to us is how you rationalise, prioritise and make decisions.  Often that can be demonstrated by presenting an epic or business initiative end-to-end and the processes and challenges you went through.
Be assured that issues may be observed that can be fixed before presenting to the investor.  Both parties will be informed, and time will be given to address the problem.  This occurs more often in 'Vendor Due Diligence' but also in traditional technology due diligence in mergers and acquisitions.
Transform
It's not enough to 'report' the last stages.  We need to look at the potential transformation of technology and how that will benefit the overall value creation plans.  So whilst we present a report and attend briefings, we are typically showing areas or resources that are gaps that can quickly be addressed that will shift the current thinking and pace of change.
How you can prepare
One word.
Documentation.
Yes, go for it.  Groan.  But the teams that have good, clear documentation tend to shine.  By good, we do not mean reams and reams of documents or elaborate diagrams.  It can be just a few essential items such as a tech roadmap, strategy and plan.  Nor do we mean polished presentations because polished immediately ignites the cynic – what are they hiding?
If you already have existing documentation to hand, that's excellent, as that demonstrates good processes over a period and the team possibly being more strategic.  But also note the documentation needs substance.  What that means, I will leave it to you.
But please help us satisfy our need to devour the information about your environment.  Because we often want to present it in its best light – warts and all.